Adding vintage kitchen cabinets to your home, be they authentic, restored pieces or custom-built vintage styled pieces, can add classic, historic beauty to your kitchen. Old things were built to last, and vintage cabinets can bring back that feel of solid, long-lasting hardware. Parada Kitchens is your top choice in the Greater Toronto Area for vintage kitchen cabinets and vintage kitchen design.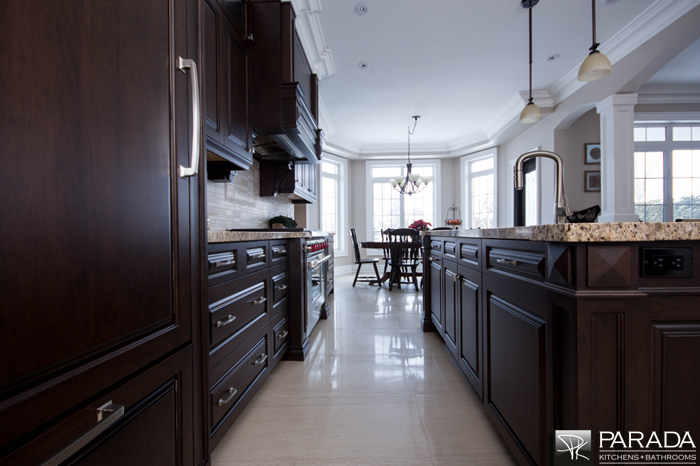 "Vintage" can cover a wide range of styles and designs – it's not just the modern age which has seen styles come and go! From old-world, European-style scullery to Boomer-era kitsch, there are vintage kitchen cabinets to match any designer's dreams. Whether you have vintage cabinets that need to be fitted into your new kitchen design, or you want a new cabinet that evokes the feel of vintage designs, Parada Kitchens can help.
Our fine, traditional carpentry techniques ensure that you're getting cabinets that will stand the test of time. The quality materials, hardware and construction we employ ensures that your cabinets are as durable as possible, lasting the lifetime of your kitchen. We provide the sort of design and craftsmanship you can really only get from handmade units.
With our trademark focus on extraordinary design, our impeccable attention to detail and our dedication to a high level of personalized service, you can rest assured that when you're selecting a cabinet from Parada, you're getting a long-lasting, stylish and distinctive cabinet look that will last for years to come. We're your top choice in Toronto for kitchen and bathroom design, from traditional cabinets to modern cabinets and, yes, vintage designs.
Custom cabinets means no compromises. You get a vintage cabinet especially designed for your kitchen – not some cookie-cutter, pre-made option that almost works. When you have our skilled specialists custom-build your cabinets, you can rest assured you're getting something built to your exact specifications.
Parada Kitchens & Bathrooms is Toronto's premier kitchen and bathroom renovation company. Our custom cabinet work and vintage kitchen cabinet design will meet all your needs, visions and expectations. Contact us today to learn what we can do for you!