Whether you're building a new kitchen from scratch or upgrading an existing one, Parada Kitchens is your top choice in the Greater Toronto Area for traditional kitchen cabinets. The kitchen of your dreams is only a phone call away; our expert designers will craft durable and beautiful traditional cabinets to add long-lasting elegance and style to your home.
All of our kitchen cabinetry is constructed with high-quality materials, and with the level of expertise we've been bringing to all of our projects from the very beginning. We make no compromises when it comes to quality!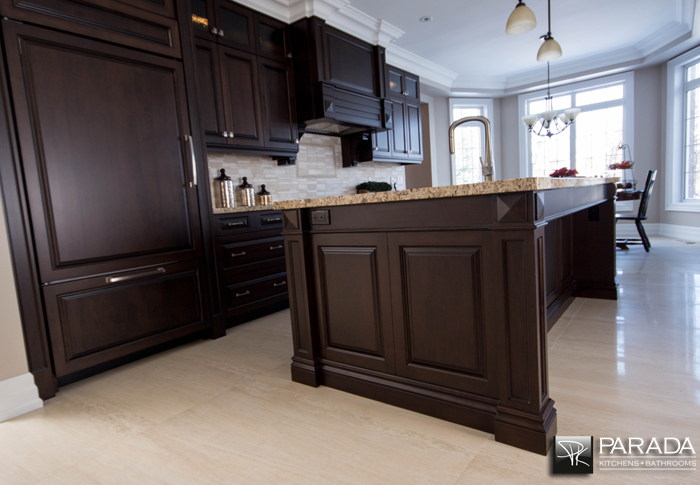 From design to installation, Parada Kitchens provides you with the best kitchen and bathroom renovation and design experience possible. We'll help you transform your space into the traditional dream you've always wished it would be.
Traditional cabinets generally feature darker, richer finishes, and inspire more formal and decorative designs than modern cabinetry. With deep, multidimensional colors and a variety of decorative doors and hardware, there are a large number of possible finishes for your traditional cabinets, fitting any design scheme you may have in mind.
We go beyond just mahogany or chestnut, as well – we can make expert, traditional designs with lighter-colored finishes or unconventional stains. That's the advantage of a custom cabinet maker; we can design and build cabinets that fit your precise needs, not just something premade that comes close. We work with you to make your cabinetry dreams come true.
With our trademark focus on extraordinary design, our impeccable attention to detail and our dedication to a high level of personalized service, you can rest assured that when you're selecting a cabinet from Parada, you're getting a long-lasting, stylish and distinctive cabinet look that will last for years to come. We're your top choice in Toronto for kitchen and bathroom design, from transitional cabinets to modern cabinets and, yes, traditional designs.
Parada Kitchens & Bathrooms is Toronto's premier kitchen and bathroom renovation company. Our custom cabinet work and traditional kitchen cabinet design will meet all your needs, visions and expectations. Contact us today to learn what we can do for you!