All across Ontario, designers, builders, home remodeling specialists, and homeowners agree that the number one home remodeling project is a kitchen renovation, and with good reason. Designed to be warm and inviting, the kitchen is a focal point of home life – from preparing and eating meals to family game nights or casual conversation. Nothing creates a greater sense of pride than a brand new kitchen renovation, while at the same time increasing your home's resale value.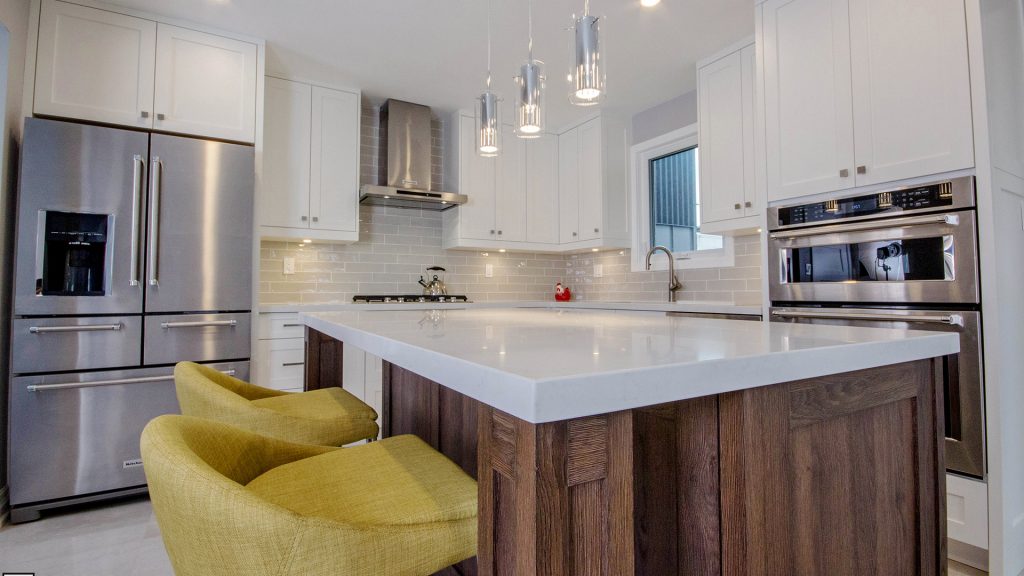 Parada Kitchens & Bathrooms is the premier kitchen and bath specialist in the Greater Toronto Area. We're famous for innovative and affordable designs that consistently meet and exceed customer's expectations from start to finish. From consulting and design services to installation and renovation, our company handles all facets of your project, including plumbing and electrical work.
According to Remodeling Magazine, the return on your money for a typical kitchen renovation is more than 50 percent – and will provide even more valuable "intangibles" to you and your family for as long as you're in your home. Parada Kitchens & Bathrooms can make your kitchen renovation come to life before the project even begins, thanks to the latest CAD software which allows you to visualize your new kitchen in stunning detail and clarity from cabinets to flooring to appliances.
A kitchen renovation can be expensive and time consuming, often forcing homeowners to adopt a temporary change in lifestyle or routine till the project is complete.
Things to consider before starting your Toronto kitchen renovation project
Kitchen Cabinets
Insist on using quality materials. For cabinets, the options are stock, semi-custom, and custom, with stock cabinets made from less sturdy materials and offering a limited range of styles, finishes, and widths. Depending on your budget and how often the kitchen will be used, we recommend homeowners stay away from products that are stapled together or whose primary construction material is particle board. Semi- and custom cabinets feature higher quality building materials and hardware, and are characterized by silky smooth finishes.
Countertops & Sinks
Even under the best conditions, countertops will be subjected to spills and splatters that aren't always cleaned up right away, which means choosing a stain resistant countertop. There are a wide variety of natural stone and engineered surface materials to choose from, including familiar brand names like Caesarstone®, Silestone®, Hanstone®, and Cambria®. Regardless of your needs, Parada Kitchens & Bathrooms can help you choose from affordable and durable countertops that are easy to maintain.
Sinks are available in a wide range of finishes, some of which are integrated into the countertop, but the most convenient option is stainless steel. It's durable, scratch resistant and, as the name implies, resists stains and spills.
Design and Layout
One of the most popular trends we're seeing right now is larger and more spacious kitchens. Even if you can't afford to build out, however, our design team can help you utilize the space at your disposal. For kitchens with eight foot or higher ceilings, think about installing floor-to-ceiling cabinets which provide more options for shelving, slide-out pantries, and other features popular with today's kitchen renovation projects. Islands are great, but need to be functional, meaning counter space should include a sink and preparation area.
When it comes to lighting, our designs like to utilize as many natural sources as possible through large windows or sky lights. Ovens, stoves, stove tops, and microwaves need to be properly ventilated using fans and duct work to draw heat, smoke, and odors outside the home. We also recommend integrating colored faceplates for the refrigerator, stove, and other appliances to match your cabinetry and interior décor elements.
Thinking of renovating your kitchen in Toronto? Call Parada Kitchens & Baths today for a free consultation.