When it comes to minor bathroom renovation projects in Toronto, most homeowners are capable of handling minor improvements on their own, such as painting the walls, installing a towel rack, or perhaps even repairing a leaky faucet. But if you are in a position where a major remodeling is in order, perhaps after years of saving or with the addition of a child to the household, it is always best to work with a licensed, experienced home improvement contractor rather than go the do-it-yourself route.
Parada Kitchens & Bathrooms has been the premier kitchen and bath company in the Greater Toronto Area for a decade. We've built our business on one simple philosophy: The customer comes first. This means our sales and design professionals are in tune with your needs from the get-go, and never forget who makes final decisions regarding design, style, and budget. Here are some things to keep in mind when selecting a bathroom renovation specialist.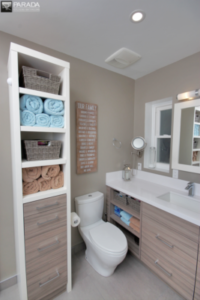 How to choose the best bathroom renovation company
Develop a list of contractors that you would like to interview. Like the rest of the economy, the home improvement industry has suffered since 2007. This means it has its fair share of fraud and abuse that unsuspecting homeowners fall for all too often. As you begin researching possible bathroom renovation contractors, develop a list based on referrals from a network of trusted family members, friends, or co-workers. That way, you are more likely to get an opinion you trust, and the selected contractor will know that poor work will result in a poor referral.
Once you have a list of bathroom renovation specialists to work with, start scheduling in-person interviews — preferably with someone who will come to your home and see firsthand the scope of the project. Ask how long the company has been in business, if they are licensed and insured, if they specialize in one area or another, and whether they can refer you to customers they have worked with in the past.
Once you have narrowed the list to two or three contractors, it is time to start the bidding process. Assuming you have specific goals in mind, and know what features you want in a new bathroom, solicit bids from the bathroom renovation companies about the specific work, and discuss cost over runs, deadlines, and warranties.
Narrow the list to two contractors. If the contractor you are leaning toward hiring comes in with a higher bid, ask if she or she will match the lower bid from the other contractor. But keep in mind the lowest bid is not always the best bid. Important factors to consider are seeing samples of actual work, and your comfort level with a particular company.
Select a company and sign a contract for the bathroom renovation project. The contract should include a description of the scope of work, cost estimate, deadline to completion, and warranty information.
For more information on bathroom renovations in Toronto, call the experts at Parada Kitchens & Baths.