Rustic cabinets are very popular nowadays. This is true both when remodeling older homes – trying to match styles that exist in the rest of the house – as well as in entirely new construction, as people try to capture a certain feeling and style that you simply don't get with modern designs. At Parada Kitchens, we make wonderful, custom-built rustic kitchen cabinets. We're your top choice for cabinets in the Greater Toronto Area.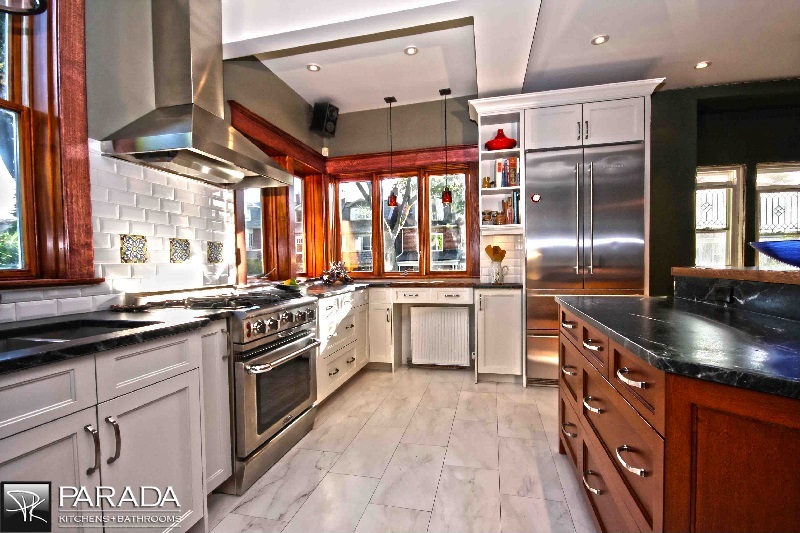 Rustic kitchen cabinets give your kitchen a lived-in look – a familiar, timeless look, as if your kitchen has been well-used. They use plenty of natural materials, often showcasing that wood grain for a unique look, bringing the charm of the outdoors into your kitchen. They are often distressed or worn and weathered, helping further that lived-in, well-used look. The mixture of different textures and embellishments creates a unique style that evokes images of quaint country cottages – a respite from busy everyday life. With rustic kitchen cabinets, you're creating a sanctuary in your kitchen.
Pine, cherry, oak, maple, hickory – the options are nearly endless. Once you add the options for cabinet hardware, you're opening up dozens of designs. It can fit any sort of design scheme you have in mind – that's the benefit of getting custom cabinets from Parada Kitchens. Rather than settle for something that almost matches what you want out of a catalogue, we can craft the perfect cabinets for your specific kitchen.
With our trademark focus on extraordinary design, our impeccable attention to detail and our dedication to a high level of personalized service, you can rest assured that when you're selecting a cabinet from Parada, you're getting a long-lasting, stylish and distinctive cabinet look that will last for years to come. We're your top choice in Toronto for kitchen and bathroom design, from traditional cabinets to modern cabinets and, yes, rustic designs.
Parada Kitchens & Bathrooms is Toronto's premier kitchen and bathroom renovation company. Our custom cabinet work and rustic kitchen cabinet design will meet all your needs, visions and expectations. Contact us today to learn what we can do for you!