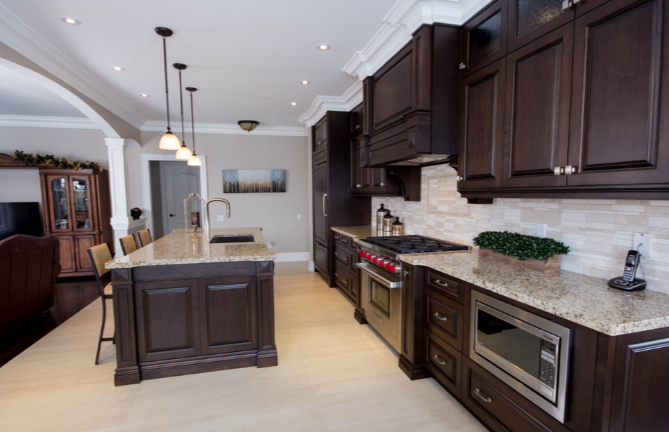 When you remodel your kitchen, you want to give the space the attention it deserves. The kitchen design must address every need and every detail. Your kitchen is the center of your home. The contemporary kitchen needs both functionality and a modern aesthetic. It needs to be a space where you can entertain, build memories, and have easy food prep. What are the hottest trends this year? How can you transform your outdated kitchen into a truly innovative space that meets all your needs?
The Power of Custom Design
For a truly life-changing kitchen renovation, leave behind cookie-cutter designs and embrace custom design. Working with one of our experienced Parada designers guarantees that your vision will become a reality. From custom cabinet installation to custom-built kitchen layouts, trust the kitchen design team to make your kitchen renovation painless. Homeowners who want a stylish luxury kitchen space that will last for decades work closely with their designer to install elements that have a timeless classic quality. For the best value and a distinctive high-end look, choose a professional custom design.
The Two-Toned Kitchen
One of the most popular kitchen trends this year is the two-toned kitchen. Combine white with ebony for a stylish contrasting look. Most homeowners opt for kitchen cabinets in two tones. Backsplashes, flooring, and walls remain cream or white. The contrast has a distinct timeless look. For a twist, opt for white and navy blue. To add a minimalist tone, substitute the black cabinets and appliances for gray and steel appliances. Add cherry red accents for a bold pop or hang original wall art that complements the clean look.
Smart Appliances
Today homeowners can choose from a wide range of smart appliances and devices like Alexa and Google home. These smart gadgets make life more convenient. From refrigerators that monitor how many calories you consume each day to smart speakers that quickly spout out easy chicken recipes, kitchen technology continues to evolve. Discuss smart appliance options with your kitchen remodeler. Opt for appliances and gadgets that meet both functionality and your budget. While there are literally hundreds of options, most homeowners find that a smart speaker and smart refrigerator rate the top of must-have modern kitchen devices.
Custom Lighting
Is your kitchen gloomy? Do you find there are dark nooks and crannies? Install custom lighting to brighten up your space. Add smart security lights for safety. Install an artistic chandelier to make a bold stylish statement. Try a number of options like track lighting and coloured bulbs. And never forget the power of natural lighting. Brightening up your kitchen increases functionality and safety. Make the most of your kitchen.
Double Kitchen Islands
Many modern homeowners install double kitchen islands. Some kitchen islands are stackable, allowing more space and flexibility. Along with a double kitchen island, some homeowners who entertain often will install a double dishwasher.
When you want to upgrade your kitchen, call the kitchen installation professionals at Parada. We proudly offer the best home design in the GTA. Contact us today to speak with one of our many talented designers.