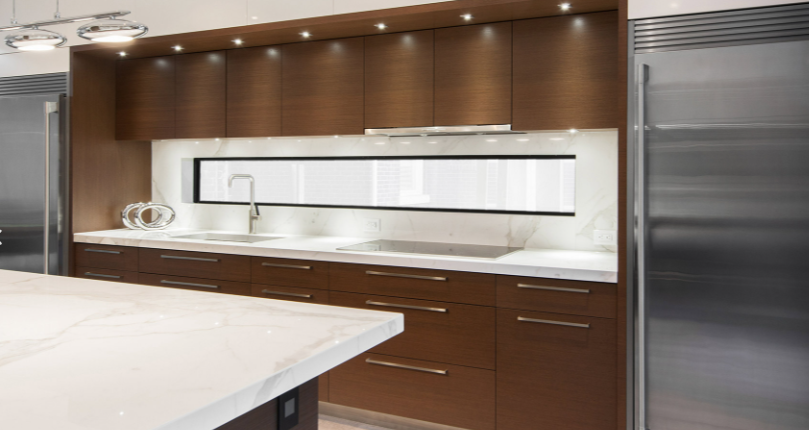 What are the hottest kitchen design trends for 2022? Embrace a combination of timeless styles and classic design with new bold colours and pizazz. When looking at the best kitchen remodel for families this year, consider what our top designers recommend below. The pandemic has redefined what we expect in our kitchen spaces. You want luxury. You want style. And you deserve the best!
Say Goodbye to White Kitchen Drudgery
The first kitchen trend that has taken the world by storm – bold beautiful colour! We are not just talking about a little eggshell blue or subtle green. Embrace beautiful jewel tones like pink pops of colour, luxurious two-toned cabinets, or ebony accents. Many kitchen remodel trends for young families see an embracing of adventure and a little bit of playful fun. Reinvent your kitchen. Make it is space that evokes conversation and style.
Hello Ebony
Looking for ultimate sophistication? Dark black accents combined with copper in an elegant timeless design. Tie in the look with polished new black appliances and interior black window frames. Replace worn kitchen cabinets and countertops with black marble. Accentuate with gorgeous monochromatic large-scale photo prints and artistic chandeliers.
Custom Lighting Design
Nothing says opulence like a truly fabulous artistic chandelier or customized smart lighting design. Combine finely crafted lighting fixtures with a polished distinguished look for a timeless style. Linear lighting over the kitchen island to allow for more utility presents a breathtaking aesthetic.
High-Gloss Kitchen Design
Reimagine your tired old kitchen as a pristine high-gloss kitchen with contemporary furniture and a distinct geometric touch. Enjoy the finest kitchen cabinet craftsmanship with fine gloss that shines and brings exceptional beauty to your kitchen. Ask out Parada design team about how you can upgrade your cabinets and surfaces with the best materials available today.
Multiple Kitchen Islands and Double Dishwashers
Many homeowners enjoy the convenience of a double island. The double kitchen island allows for more customization during entertaining and brings exceptional storage space. Not only does a multipurpose double kitchen island allow for more prep space, but it also accommodates the post-pandemic world, serving as a makeshift workspace. If you have additional space and love entertaining, opt for the double dishwasher. You will not regret the convenience.
The Butler's Pantry
Remodel a spare closet or room into a luxurious butler's pantry. The additional space serves as a place to store spices and your finest china. Incorporate a sink or small prep station for more utility. The butlers pantry easily stores wine or can house your expresso station.
You deserve a luxurious kitchen that meets all of your desires. At Parada Kitchen, our exceptional design team will work with you to create the luxury kitchen you always wanted. We have the best customer services in the area. With decades of design experience, we have helped hundreds of homeowners and business owners realize their vision. Contact us today. We would love to help you.