As we reach warmer months, the idea of bathroom renovations becomes more appealing. If you've been thinking about a new renovation, we've got some ideas that will help your bathroom stand out. Many of the renovation ideas on this list combine functionality with beauty.
Just because you don't spend much time in your bathroom doesn't mean that it shouldn't get the opportunity to stand out. With that in mind, here are five ideas you can steal for your next bathroom renovation.
Option #1: Elegant with a Glass Shower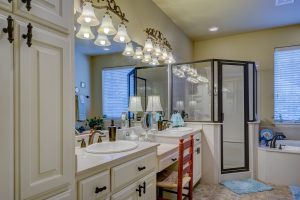 Two things stick out here:
The beautiful use of lighting
The unique glass shower design
Neither of these options is modern, but they still provide an elegant reminder of a classic elegant bathroom. Add a unique twist by providing for half-visible showers.
These showers are also perfect as a method to provide support to elderly individuals. It combines a good design choice with safe seating for elderly individuals.
Option #2: Simplistic and Modern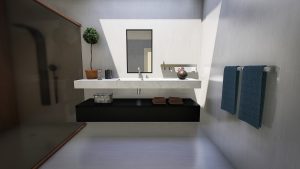 Modern designs are minimalistic and striking. A great example is the cubic appearance of the bathroom located above. Scenarios like this imply that showers belong to another room.
You don't necessarily have to rely on the floating design as well. Regardless, keep simplicity in mind when deciding upon any bathroom design.
Option #3: Natural Stone with Tile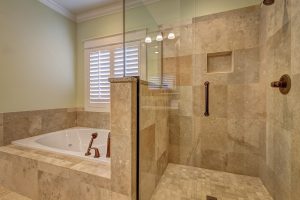 It's popular for many bathrooms to have a natural stone appearance to them. In the example above, everything has the appearance of sandstone. Seeing this design choice in action is a great way to inspire your design.
Even if you don't like the beige appearance, you can swap that out for any natural stone color. Deep greys or white-ish marbles are great additions to any bathroom. Natural stone appearances have a wide variety of potential colors behind them.
Option #4: Natural Wood Counters with a Recessed Medicine Cabinet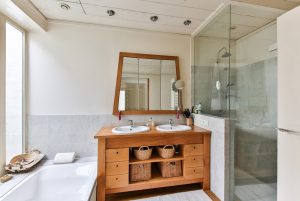 There's a lot to absorb in the picture above. The non-standard shape of the medicine cabinet allows for a unique feature. The natural wood appearance of the cabinet sticks out nicely but doesn't dominate the eye. The use of wicker baskets in bathrooms is also totally underrated.
An eye-catching bathroom can combine the best elements where only one feature stands out. However, that feature doesn't necessarily have to be exploding from the wall to be eye-catching.
Option #5: A Tub in the Center of the Room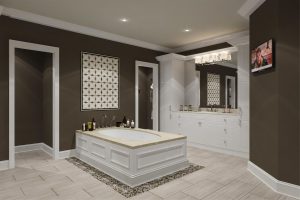 A larger bathroom has great potential for flexibility. One way you can make this style of bathroom stick out is by repositioning familiar places for items. Bathtubs and showers in the center of the room are a great example of this in action.
Keep in mind that relocating plumbing can quickly become the most expensive part of any remodel. Make sure you've got the budget should you need to move pipe.
Wrap Up
Just because you don't spend a bunch of time in the bathroom doesn't mean you can't enjoy your experience. Make sure that you love stepping into each part of your home with a redesign from our team of specialists with Parada Kitchens and Bathrooms.