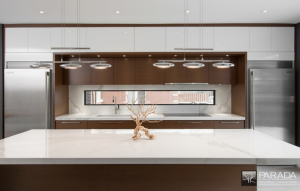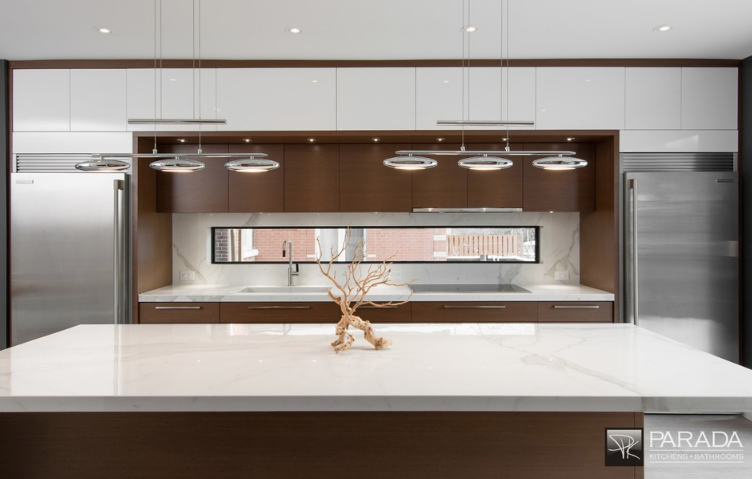 Your kitchen is the heart of your home. You want to have the perfect kitchen layout, the right colors, and all the latest kitchen innovations. From finding the stylish kitchen cabinet ideas that fit your unique taste to accommodating your very busy lifestyle, discover the right style for you!
Multifunctional Bungalow
Transform your kitchen into an exciting multifunctional space. Today's families have to juggle work, schooling, entertainment, and family life. Your home needs a kitchen layout that gives you space and versatility you need for 2020. Enjoy a hybrid space perfect for all your needs from innovative kitchen cabinet ideas to smart home technology:
Widen tight kitchen layouts by knocking out walls and expanding walking room
Add built-in desk and hutch for schooling or work
Try a cherry desktop
Pull out breakfast bench and nook
Display your gorgeous dish or wineglass collection with open concept shelving
Stainless steel smart appliances
Easy-to-clean linoleum flooring
Small compact bar nook for quick entertaining or a moment of relaxation
Use of neutral tones combined with dark wood, unique accents, and dark wood tones
Track lighting
Large double sink
Add natural lighting and lush fresh flowers
Take a small kitchen space and create a one-stop area for all your needs. Ask our talented Parada Kitchens & Bathrooms designers about what you need in a kitchen. They will help you realize your vision.
Strip away the flashy and simplify your life and your kitchen. This style depends highly on neutral tones, simple materials, and a clean look. Avoid clutter and messiness with high end stainless steel appliances, custom hidden storage and cabinets, and the use of industrial materials and concrete. Use concrete flooring. Leave walls clear of a patterned backsplash or use a single slab of metal instead. Incorporate a gorgeous elegant concrete table. Use a very neutral palette like taupe and dark gray, perhaps only accenting with ebony or industrial-inspired fixtures.
Grand Spaciousness
If you have a much larger space to work with, incorporate today's must-haves: a butler's pantry, large kitchen island with breakfast bar, and floor to ceiling backsplash. Make the most of your available space. Perfect for entertaining and accommodating a busy lifestyle, your spacious kitchen can include a number of luxury elements:
Double kitchen island
Butler's pantry
Double dishwasher
Full pantry
60-inch range
Custom tiling
Built-in hutches
Pot rack above the island
Paneled refrigerator
Service kitchen
Smart light technology
Smart appliances
Inset butcher block
Custom cabinetry
Gold or black fixtures
Double sink
And more
When you want to make the most of your space, ask our designers. We pride ourselves on providing you with the luxurious kitchen that you deserve. Parada offers a wide range of services and products, from high gloss kitchen designs to entire home renovations. Clients trust us to transform their bathrooms, kitchens, and homes in into the house of their dreams.
Schedule your first consultation with us today. Our friendly staff will be happy to answer all your questions. Find the kitchen style you love with Parada. Contact us now.