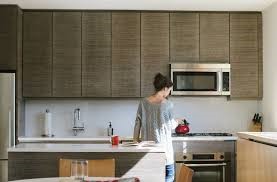 Let's be honest, cleaning the kitchen is one of the least enjoyed household chores, and unfortunately, one of the most frequently needed. With three meals a day and a constant flow of dirty dishes to be washed, keeping a tidy cooking space can feel like a battle you'll never win. But don't fret! There are small changes you can make that will keep your workload to a manageable level and tamper your stress level to boot. Sounds great, right? Let's take a look!
Declutter Your Countertops
We're all guilty of it to some degree. It's nice to have easy access appliances and utensils ready to go whenever you need them. Toasters, mixers, and spatulas are among the most common things we'll leave accessible day after day. But the truth is, we don't use these items all the time. When they're not being used, they're creating an overall unkempt appearance on our countertops. And in the process, they're adding to our stress level. It might feel strange at first, but go ahead and find a new home for everything – one that is out of sight. You'll be amazed at the remarkable difference it makes. Plus, you might find that you're more eager to wipe your counters thoroughly if you don't have to move a bunch of things out of the way first.
Clean as You Go
Here's some cliché advice that we've all heard a million times, but few of us actually practice. We get so wrapped up in our preparation efforts, the thought of cleaning often doesn't enter our minds until the end – when we're exhausted and don't feel like cleaning. But there are some super simple ways we can help ourselves out.
While you wait – Instead of staring at a pot of water while waiting for it to boil, go ahead and rinse off a couple of dishes. Or if the oven needs a little more time to preheat, why not wipe up that pile of flour that's on the counter, or that puddle of milk you spilled?
Compost bowl – Select a bowl as your dedicated food scrap container and place all your veggie trimmings in it. That way, you'll keep your countertops clear as you work. And when it comes time to toss the scraps, you've got a simple, one-step process. Easy as pie!
Establish a Cleaning Schedule
Time flies faster and faster every year. And if we're not careful, essential cleanings can get overlooked for far longer than they should. But if you set and maintain a regular cleaning routine, you'll always have a clean kitchen ready for use. For example, you can mop the floor and sanitize the sink once a week. And once a month, you can clear out the fridge and give it a thorough cleansing. Just be sure not to forget the things you'll do less frequently, like clean the dishwasher or removing the crumbs from the hard to reach nooks and crannies we all have in various places.
No matter what you decide to do, a clean kitchen is necessary for a happy and hygienic cooking space. Make sure it's at the top of your priority list!