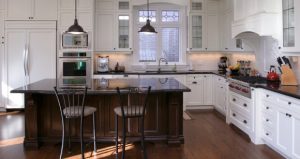 The kitchen is the center of your day-to-day life and the focal point for family gatherings. You likely start your day with a hot cup of coffee or a healthy breakfast to get things off to a great start. You prepare countless meals there and probably eat some of them there too. When you entertain guests, they always seem to wind up in the kitchen where they can enjoy the food and drink while talking and sharing each other's company. It's where you cook, eat, socialize, and bond with loved ones. In many ways, it is the heart of your home.
Years ago, homes were very different. Kitchens were treated as a utility space where meals were cooked in seclusion from the dining room and other areas of the house. The design was intended to hide the mess that comes along with preparing a meal. In the process, it also hid the person making the meal, and confined the socializing to the dining area and living room.
Today though, kitchens are often included as part of an open floorplan and are equipped with family-focused features such as seating areas and computer nooks. Now parents can cook dinner while the kids have an after-school snack at the counter or finish their homework on the laptop. It's where the little ones receive their first lesson in cooking and healthy eating. And it's where they get their first taste of chores by cleaning the dirty dishes.
But convenient parenting isn't the only benefit. Kitchens are also where children learn social skills and polite manners that will aid them in their journey into adulthood. Studies show that children who eat frequent home-cooked meals earn higher grades in school and are less likely to abuse alcohol, drugs, and cigarettes.
Holiday meals are now prepared and shared together. Even those who are doing more nibbling than cooking can hang out in the kitchen and be a part of the family time with everybody. No one is isolated alone in the kitchen while the others laugh and play elsewhere in the house. These days, everyone can join in the special day together.
With so much activity in this room, your kitchen must provide you with a functional, supportive, and aesthetically pleasing environment. Take the time to ensure that your kitchen is adequately equipped to decrease your effort so you can increase your focus on family and friends. If your current set up isn't meeting your needs, maybe it's time to consider an update or remodel. Just remember, by investing in your kitchen, you are investing in your family.