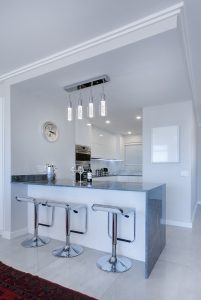 Need to illuminate your kitchen and add a bit of modernity to it? Lighting is a simple and often cost-effective way of changing your décor. But where to start? If you've visited any lighting store, you will see just how overwhelming the choices are. To help you find the right décor for your kitchen, we've put together the best lighting trends of 2019.
Edison lights
What's old is new again. And with lighting, this is quite literal. Edison may have invented the lightbulb, but probably had no idea his design would still be used in 2019. Edison lightbulbs have clear glass and old-style filaments. You can see exactly where the light source is coming from.
Edison lights now come in many styles, but one of the best lighting trends of 2019 uses multiple Edison lights in a small bulb size. You can often see them hanging from a kitchen strip. Alternately, you can line up the bulbs and have them upright, although this isn't as practical in a kitchen setting.
While Edison lights were once only found in specialty stores, they are now quite widespread. You can find them in many home improvement stores, and with multiple online retailers.
Task lighting
Gone are the days when you only had one large ceiling light in your kitchen. Now, the kitchen has been changed into zones with each zone appropriately lighted. The result is crisp light that illuminates your space. So, whether you're chopping vegetables or letting your roast rest, you can have your entire area properly lit.
A lot of task lighting is pre-wired which allows for the cords to be hidden. However, if you are adding task lighting after a kitchen remodel, there are many stick-on, battery-powered lights you can purchase. These can be placed on the underside of a kitchen cabinet, providing modern lighting.
Statement pieces
What's hanging over your dining table? As more and more homes have gone away with both a kitchen table and a dining room table, there has become a need to really accent the multi-purpose space. While there have always been kitchen pendants, one of the latest trends of 2019 is a bold statement piece. Something large like a lantern, or ornate with mirrored pieces. Really, the choices are endless. Just choose something that fits both your personality and décor.
Brass
While chrome and silver accents were all the rage just a few years ago, gold and brass have now replaced them. These warmer tones bring a bit of softness and comfort to the room. Burnished brass is especially popular as it's not as shiny as the gold accents from the 1990s. Many home improvement stores will offer brass choices on taps, faucets, and hardware.