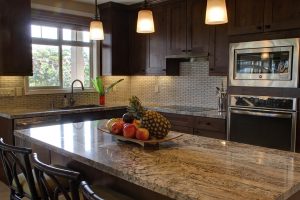 You're ready for a change in your kitchen. You've saved up and are ready to start spending. But where do you start? Before you start signing cheques, take a minute to understand what are the best ways to invest in your kitchen.
Countertops
Your countertops will be the focal point of your kitchen. Waist-high, they are front and center when you enter the room. Even if you have a beautiful floor and walls, your countertops should bring them together and bridge the divide, so to speak.
Invest in your countertops. This does not mean blow your whole budget on them. In fact, we would caution you greatly on this. The trick to creating this amazing focal point is to find something timeless and durable.
You could go the way of design fads, but they might just leave you cringing in a few years, way short of their actual lifespan. Instead, opt for something simple, classic, and that will adapt to any future décor changes.
Appliances
You need appliances in your kitchen. The fridge, the stove, the dishwasher: all are needed to not only create nourishing food but to perform to their best ability.
The problem with appliances is that they are expensive. What's more, is their unexpected break down is rarely budgeted for, leaving you with a race to find something that fits a meager budget and is available for delivery right away.
If you have set aside money for a kitchen remodel, look at the best options for appliances. Many places will offer package deals, which is a great option. Another way to save a bit of money is to buy different brands. If you don't care about the brand name, and instead just want to have the same finish, you could pick up separate pieces that are on sale.
Finally, for bulk orders, be sure to take advantage of price matching. If you can find all your appliances at one store, you could potentially save on delivery. So if your dishwasher is on sale at one store, and your stove at another, bring in the flyer to just one place and ask for a price match.
Kitchen cabinets
Your cabinets are large and therefore should look as good as possible. There are many options for your kitchen cabinets as a way to invest in your kitchen. If possible, keep the current layout. Custom cabinets look great but cost way more than other options.
If you like the storage part of the cabinets, try to replace the doors, instead. You could paint them or reface them.
It's amazing, but even just changing out the hardware on the doors can make a huge difference. Invest in your kitchen cabinets but keep everything in budget. Don't worry – you can still make your kitchen shine.