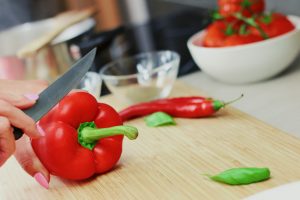 Love looking at your kitchen but not actually being in your kitchen? Have you invented a new kitchen dance anytime you need to share your space? Then it's definitely time to improve your kitchen flow.
Designated areas
If you're a coffee lover, it just makes sense to have all your coffee supplies in one location. Keep your coffee maker on the counter under the cupboard of coffee mugs. You can even store your coffee grinds nearby. Make it as easy as possible to wake up in the morning.
Likewise, if you are an avid home cook. Keep your knives freshly sharpened and hanging on a magnetic wall strip next to the cutting board. Keep your spices nearby to help season your food. The more set up you are in a station, the happier you will be cooking.
Optimize drawers
One of the most efficient ways to stay organized and improve your kitchen flow is to optimize your drawers. Keep all your cloths together in easy reach of your sink. So often smaller objects take up too much space in a cupboard. Instead, place these small objects in a drawer. You can put all your spices in a drawer, and if this drawer is near the stove, all the better.
Keep it seasonal
Yes, it's great that you have a collection of Christmas dishes, but do they really need to take up prime real estate in your kitchen? The answer is most definitely no. After each season or holiday, give your special dishes or mugs a good clean. Place them all in an air-tight container. Then, store them elsewhere, such as the attic or garage. You can take them out again next year and they will be ready to go.
Once you get rid of unneeded items, your kitchen flow will naturally become better. You can put all your everyday kitchen dishes at arm height for easy reach. Even the appearance of space can naturally calm your nerves and allow you to appreciate your kitchen even more.
Switch it up
Tired of always having to traverse your kitchen to put clean glasses away? Maybe it's time to move the glasses closer to the dishwasher. Let's face it. You probably use your dishwasher on a daily basis. So, make it easier to unload that appliance. Store your plates in a cabinet that can be accessed while having the dishwasher door open. Put on a trial run of emptying to see what makes the most sense. All of your day to day dishware should be in close proximity.
If you're not sure about moving things around, it's best to just go all-in. Take everything out of your kitchen for a fresh perspective. It might take a few days to determine the best, new location for everything, but the end result will be well worth it.