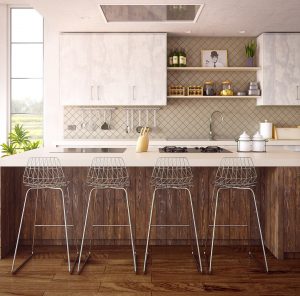 When it comes to your kitchen, why be ordinary when you can be extraordinary? Your kitchen is the life of your house, so shouldn't it represent your unique personality? Find out what the top alternative design trends for your kitchen are, and start your reno now!
Unique cabinet colors
When it came to the color of kitchen cabinet doors, your choices were white, black, brown, or grey. Now, you can have just about any color imaginable. Your kitchen is all about your unique self, so why not play around with color for cabinets? From bright green to glossy red, to slate blue, there is a color choice for you.
If you're not in love with the color choices on display, you can actually create a custom color for your cabinets. That's right, you can perfect a color that only you have, thanks to the new design innovations. No more settling for a dusty cream if instead, you want a bright canary yellow. Whatever you envision, you can have.
Oak wood cabinets
As with most design trends, everything old is new again. In the 1970s, oak cabinets were hip and trendy. The softer wood tone and striking wood grain were a real design inspiration. But, as kitchens became sleeker, oak fell to the wayside. Now, they are in again. Alternative design trends for your kitchen often take inspiration from the past, and oak wood cabinets are no exception. There's a reason people liked them in the first place, and why they have rediscovered them again.
If you are opting for natural wood cabinets, be sure to check out an oak wood sample. You'll be impressed by the grain. You'll also understand how they can lighten the mood of a kitchen. You don't need to settle for either black or white. Instead, go for something in the middle.
Trough sinks
Somewhere along the line, fashion and utility decided to team up, especially in the form of a kitchen sink. One of the most striking alternative design trends for your kitchen is the large, trough-like sink. Meant to take the place of two side-by-side sinks, as has been the custom for so long, these longer sinks are a very striking feature. Many also include an apron section on the front so their unique design isn't hidden by a false-drawer, which was so often the design case.
With the return to home cooking, many cooks will understand the need for more cleaning room. You can easily clean baking sheets, roasting pans, or griddles in an oversized sink. There's a lot more versatility to them. A lot of trough sinks will be accompanied by smaller prep sinks, placed in the island. This gives you a separate prep station that allows for multiple home cooks to create their next masterpiece.