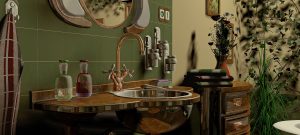 When it comes to bathroom fixtures, a little goes a long way. Most fixtures, including sink taps and towel holders, will come in a metallic finish, but what are the differences? When you're at your local home improvement store, bogged down with options, how do you know what will look the best? To help you, her is our definitive guide to metal bathroom fixtures.
Brass
This cousin of gold was a real hit in the 1990s. In fact, if you see brass accents, you can usually date the last renovation of the house. Until recently, that is. Because everything old is new again, brass is making a come back. With its burnished look, brass can quickly give a room an antique look. Bronze and glass are paired really nice together, so you might see them appear in light fixtures.
If you're looking for a cozy, homey feel for your bathroom, brass is a really nice option. Brass fixtures are becoming more popular again so there are more options available. And, if you're a real thrift store connoisseur, you just might find some brass metal bathroom fixtures on your next visit.
Chrome
Chrome is all the rage right now. As more silver-inspired metals have taken over from gold-inspired metals, chrome has emerged as the standard. Chrome metal bathroom fixtures are the go-to style and as such there are plenty of options available.
Chrome is a shiny metal finish and gives a really polished look to a bathroom. It is reflective and can make even a small bathroom look larger. However, because it has a shiny finish, fingerprints will show quite easily. Chrome metal bathroom fixtures need a bit more cleaning to keep up their shiny appeal. But everyone likes a clean bathroom, so this shouldn't be an issue.
Nickel
If you live a silver color in your bathroom but want something more unique than chrome, nickel is the perfect option. Nickel is the best of both worlds as it has a bit of a golden undertone. So, you can have both silver and gold all in one.
Nickel can be found in two tones. Polished nickel is shinier and more like chrome. Brushed nickel, on the other hand, has a matte finish and a subtler color. It is also better at hiding fingerprints. While brushed nickel is more expensive than chrome, it might actually be better suited to high-traffic bathrooms as you can hide a few more water spots and fingerprints.
Bronze
You can see a lot of bronze in the kitchen, and it's just a matter of time before bronze enters the bathroom. Bronze has a redder tone than brass and is more of a statement piece. If you want an original bathroom, bronze is the way to go.