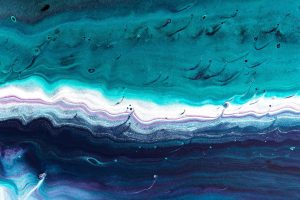 Have a bathroom that is in need of a facelift? Want to try a new theme, but not sure where to start? Pain color can be the hardest part of a bathroom reno, but we're here to help narrow down the search. Blue is a versatile color and can be used in so many different ways. These shades of blue will help transport your bathroom into the oasis you've always dreamed of.
Blue-Grey
Grey has steadily replaced the brown-tinged shades of pain from our parent's décor and as a result, rooms are becoming a bit brighter. If you're not too sure about grey, try a blue-grey paint color. This combination adds a bit more warmth to the room and really makes white accents pop. You can also include grey or silver accents to complete the look.
Midnight Blue
Have you ever looked at the night sky, just before the stars come out and think what a perfect color that is? It can be hard to choose such a dark paint color. After all, it will normally take a couple of extra coats to perfect and if you want to change the color in the future, a whole lot of primer will be needed. But the risk is worth it.
A midnight blue is still enough shades from black that you get that dreamy nighttime feel to it. Gold accents play really nicely with this color as they become reminiscent of a night sky. A bathroom is the perfect opportunity for such a bold color and a great testing ground to see how well you do with dark paint.
Robin's Egg Blue
When looking for paint inspiration, what better place to look than in nature. The bright blue of a robin's egg is one of those amazing signs of spring and is a perfect inspiration for shades of blue for your bathroom. This bright blue will really pop and make your bathroom feel like a fun place to hang out. If you're not too sure about using it in a more serious adult suite, try it out in a child's bathroom. The fun blue can add a bit of whimsy to the décor.
Pair the robin's egg blue in a bathroom with pictures of pirate boats or even mythical sea creatures. Bath time will start to feel like a scene straight out of Mary Poppins.
Mediterranean Blue
If you're looking for a nautical theme in your bathroom, look to the deep, crisp blues of the Mediterranean. Whether it's a more subtle shade paired with sea stars and anchors, or a deeper blue paired with Grecian influences, transport your bathroom to a vacation-worthy scene. Beach houses and guest rooms can really work well with these shades of blue and will create a relaxing atmosphere you long to have.