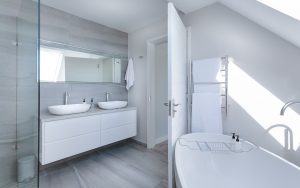 Deciding on a bathroom reno is a big step. You want to make the most out of your money and your space, so hiring the best bathroom reno company is important. Before you start the process, here are some important details to be aware of. Remember, the better the communication with your reno company, the better your expectations will be.
The design process
Sometimes a bathroom reno company will have design experts on their staff. Sometimes they won't. It's important that you begin your bathroom reno with a design already in mind. Do your research and think about the big picture of the room along with the little designs. But even if your bathroom reno company are experts in design, they will have seen plenty of renovations. Don't be afraid to pick their brains and ask what they've seen that works well, and more importantly, what really doesn't work.
Materials
If you have a specific fixture in mind for your bathroom reno, you can supply it. In fact, before you agree on a plan with your bathroom reno company, be sure to go over the materials with them. Who will be supplying what? Keep in mind that whenever the company gets to the specific part of the reno, the materials will need to be there. If you're in charge of on aspect of the material, and it's not there, the company may have to move on to meet the schedule.
Schedule
Scheduling a bathroom reno is important. You'll want it done as soon as possible so as to minimize any disruptions to your life. But keep in mind that your bathroom reno company has other projects they will be working on. Again, communication is key. Talk about when they can start and how long the project will take. Talk about time allowances and what could possibly help speed up the project.
Payment
Obviously, the price needs to be discussed with hiring a bathroom reno company. But the payment structure should also be discussed. Most companies will allow for partial payment, or holdbacks. This means that payment is due only when certain parts of the project are completed. This protects the homeowner as it means if only demolition has happened, then you only have to pay for demolition. It also works for the reno company. If they aren't paid along the way, then they won't keep working.
References
Hiring a bathroom reno company is all about trust. You are entrusting not only your money but your home and as such should expect that the job is completely satisfactorily. Be sure to check out online reviews about a company prior to hiring them. You should also be able to see a catalog of completed projects to see the company's craftsmanship.