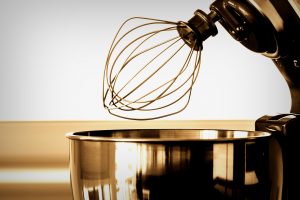 Some people are fortunate enough to have an epic kitchen, with miles of counterspace and no room restrictions. The reality for most people, though, is that space in a kitchen is at a premium, and storage space virtually nonexistent. If you feel like clutter is taking over your kitchen, it might be a good time to look at all the appliances, both big and small, that you own. Here are five kitchen appliances that you actually don't need.
Microwave
The boom of microwaves in the 1970s created a whole new way of cooking. From microwavable dinners to cookbooks devoted to the subject, food was being prepared in a much different way. Now, however, there is a return to simple, natural cooking and the microwave is slowly falling out of favor. Instead of the microwave, an oven and stove will do just fine, if not a bit longer. But if you're short on space, then the microwave is the most obvious first choice to go for.
Toaster Oven
This hybrid of an oven and a toaster can take up a lot of counter space. And really, what does it actually offer except a few burnt fingers? All kitchens will have an oven, and most will have a toaster, so really, there is absolutely no need for this bulky kitchen appliance.
Electric Kettle
It's amazing how an electric kettle has become a standard appliance in a kitchen. All it can do is boil water and chances are you own a pot, or five, that can do the exact same thing. Kettles are nice because they have an easy to grasp handle and spout, but after pouring out a pot once or twice, you will certainly settle into a nice routine. Ditch the kettle and free up some counter space.
Popcorn Maker
Popcorn mas still taste delicious, but how it has been made has changed a lot. From the bulky popcorn maker to the convenient microwavable packages, popcorn can actually be made in a large pot on the stove. In fact, this is much healthier and really quite easy. All you need is a large pot with a lid. You can add healthy oils to heat up and decide how much butter and salt you want to finish with.
Baby Food Maker
If you've ever attended a baby shower, chances are you will have seen the gift of the baby food maker. This is simply just a small blender. If you have a blender or food processer, there is no need for a baby food maker. In fact, new research has shown that babies don't actually require extremely pureed food. So, stick to clothes and books for a newborn and ditch the baby food maker appliance.