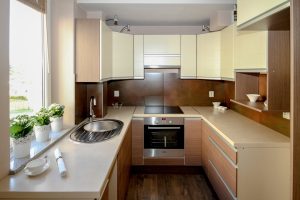 It's everyone's dream to have a stunning, new kitchen. And with all the excitement you can be forgiven for wanting to dive right in and get it done. However, a bit of planning can make all the difference. Here are four kitchen design fails to avoid so that you can enjoy your kitchen and not have to worry about fixing your mistakes.
Backsplashes
In a prime example of measure twice and cut once, the same applies for backsplash tiles. The space between the cupboards and the countertop can be narrow. Add in a window on the wall, and that space now has a lot of edges to be filled in. If you aren't hiring an expert tiler, but instead plan on some do it yourself work, really take your time. Make sure you either buy or rent the appropriate tile cutters. You might want to first make a cardboard template to ensure a smooth, perfect design fit. If you're using small glass tiles, make sure that the edges have been properly cut and not just torn off the backing. At the end of the job look to make sure that everything still looks okay once the grout has dried. If it doesn't, consider a piece of trip to make up for the rough edges.
Crown Molding
To finish off the tops of cabinets, many people will opt for crown molding as a design. This can tie everything together and give a polished, traditional look. While crown molding pieces will be level, be aware that your cabinets may not be. If you are piecing together a small gap between the cabinets and the ceiling, measure the space at different points along the top. You can also use a leveler to see just how square everything is. You may have to do a bit of sanding to level out the crown molding so that there are no gaps in between.
Upside Down Outlets
Larger appliances, like the fridge, should have a grounding tine in the plug. The plug will also be bulky and rather deep and in most cases will only fit one when plugged in. When installing a large outlet, be sure that the grounding hole is located in the right area. Do a bit of a trial to match your appliance with the outlet before attaching the wires.
Matching Tones
It can be hard to decide on a color palette and instead, many people will think that the same colors together will work. Colors shouldn't match; rather, they should go together. In the case of a light wood laminate floor and a light wood cabinet, the overwhelming color block does not inspire much. It's okay to put a bit of contrast in your kitchen. There can be light and dark colors.