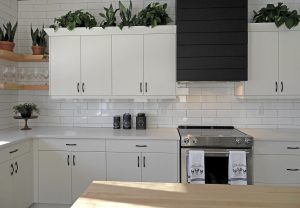 If you want your kitchen to really pop when you walk into it, then a high gloss kitchen might be the style you're looking for. High gloss kitchens use minimalist properties and a wrap-around theme to transport you to a different world. Here are four ways to make a statement with high gloss kitchens.
Keep it simple
The best way to create high gloss kitchens is to keep the design minimal. For example, cabinets should avoid hardware. Find drawers that have grooves in them so that you can open them and skip any handles. This helps to make the cabinets appear seamless. Cabinet doors should also be as flat as possible with out any panelling.
Keep small appliances and knickknacks should be kept off the countertops. If you do want to have any accents on display, be sure that they are shiny in style. The more elements that adhere to your design, the more your design will pop.
Get creative
Kitchen cabinets are not the only surface that can be the focal point in high gloss kitchens. Look to your countertops and think about what material they can be made of. There are many natural stones and man-made composites that have a shine to them.
Walls can also be high gloss. When purchasing paint, be sure to get your favorite color in a high gloss shade to add a bit of dimensions to your walls.
Lighting is also important as it will naturally be reflected in all the high gloss surfaces. Position multiple accent lights around the room so that there are no shadows. You can even add in a bit of crystal to your lamps for a sparkly feel. The more surfaces that there are for light to reflect, the bigger wow factor that your kitchen will have.
Go bold with color
When you think high gloss kitchens, the first color you might think is white. And while most high gloss kitchens have a fair amount of white, don't be fooled into thinking that this is the only color you can use. Bright, ruby red, deep emerald green, and dazzling stainless steel are all available to choose from.
With these colors, however, you should be selective as to how they are used. Some kitchen designs will have glossy red island walls. Some will have a shiny accent wall.
Keep cleaning
Arguably, the biggest challenge with high gloss kitchens is that dirt and fingerprints show a lot more easily on them. Not many people like cleaning, so if you are serious about creating an amazing, high gloss kitchen, be aware that there will be a fair amount of cleaning involved.
The best thing is to get into a routine. A quick wipe down each day won't take long, and if it becomes habit, you won't notice it much. Be sure to find a cleaner that doesn't leave streaks.