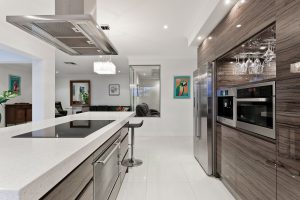 Any home renovation is an exciting endeavor and it can be tempting to dive right in. You've found the perfect tile and paint, what more could be needed? But before you start swinging a sledgehammer, here are five important steps to take before a kitchen renovation.
1. Budget
Nobody likes talking about money because there never seems to be enough for the dream project. So start by being realistic. Whatever your top budget to spend on a kitchen renovation is, set your goal for 80% of that. There will always be unforeseen costs associated with a kitchen renovation so it's important to set aside money. It's never fun to live with a half-finished kitchen.
2. Theme
Think about your overall theme of your new kitchen. It can be tempting to go out and purchase pieces of your new kitchen as you find them, but this can lead to a disjointed room. Think about what style you want: modern, rustic, country. What color palette: neutral, bold, soft. Make sure that your design theme will be something you will want to have for years to come. Nobody wants to start a new kitchen renovation right after the previous one is finished.
3. What Can Be Saved
It might be nice to start fresh but keeping some existing features will save you money that you can allocate to more important items. If your fridge works just fine and will fit with the new theme, then keep it. If you're not sure about saving existing items, try deep-cleaning them. Chances are you'll have a greater appreciation for an oven that looks sparkling.
4. Do It Yourself
Hiring a kitchen renovation company is a great idea. They are the experts and you can depend on their quality and craftsmanship. It's also nice to put a bit of elbow grease into a project. Go through your kitchen and make a list of what you can do yourself. Maybe you're an expert tiler. Leave the countertops to the professionals and work on the floor yourself. Just make sure you're realistic about your abilities. Even if you think you can complete part of a kitchen renovation yourself, the results might not be what you hope for.
5. Timeline
Just like your budget, take your timeline projection and add to it. Nothing is ever completed on time. There can be hidden problems, permit delays, and maybe you just change your mind mid-way. Whatever comes up, it's important to be realistic about your expectations. The more prepared you are for delays, the smoother everything will be.