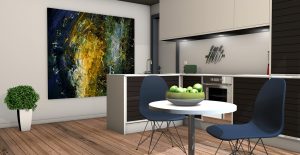 Overhauling your kitchen is a sure way to create a new image of your home. To create a modern look for your kitchen, here are three easy ideas. But remember that you want to be comfortable in your own kitchen, so be sure that it represents who you are.
Keep it Minimal
A modern look for your kitchen must be kept minimal. Clutter was a thing of the past. This can be hard as kitchens are natural magnets for stuff, but it's important to go through everything to decide if it's worth keeping or not.
For small appliances, be sure to store them off the counter and in the cupboard. Unless you use a specific appliance everything day, put it away. Put toasters and coffee grinders in cupboards that are easily accessible. Other small appliances, like panini presses and blenders, can find in storage cupboards, or if need be, the garage. Also think if you really do use the device or if its use can be served in a different capacity. Chances are you don't really need a toaster and a toaster oven.
Stainless Steel and White
To adhere to a modern scheme, opt for neutral colors like grey and white. Appliances should be stainless steel. Fixtures should be stainless steel or chrome. You can decide if you want shiny or matter finishes.
But take heart if these colors seem bland. A modern look for your kitchen can include color. If you want, pick a nice, bold accent color. Bright cherry red or deep mossy green will stand out on a wall. You can even add some wood if you want a warmer texture. Modern design has a lot of options, so be sure to find a way forward that suits your style.
Lighting Accents
Lighting is one of the best ways to get a modern look for your kitchen. Lighting can become dated rather and as a result, it can remind someone just when a kitchen was built. Boxed fluorescent lighting was popular in the 1980s and 1990s and if it remains in a kitchen, then the entire room can feel dated.
To finish off a modern kitchen light, opt for a unique pendant lamp. There are so many to choose from, either in store or online. These accent features will bring the eyes up from the ground or counter and towards the ceiling. As a result, the entire room has a modern feel to it.
In addition to a focal pendant light that hangs over the table or island, invest in other modern accent lights. Track lighting on the ceiling or pot lights under the cabinets should match the chrome or stainless steel décor. They should be smaller in size, but still have enough light to illuminate a work space. Instead of trying to light the entire kitchen, partition the lighting into zones. This will help create a more ambient mood.