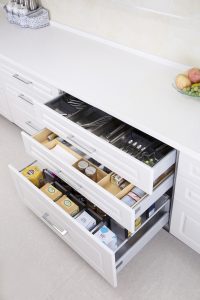 Condo kitchens can feel small and as a result of the limited space, can quickly become disorganized. Here are four easy ways to create storage in your condo kitchen.
Under the Sink
The area under the sink is often forgotten when trying to create storage for your condo kitchen. It can be dirty and smelly. First, take everything out and give it a good clean. Then, invest in a garbage can that has a lid to eliminate smells.
Ideas for storage under the sink include a tension rod that can be hung across. Here you can store spray bottles which means other, heavier items can be stored on the ground below. You can also use the back of the cupboard door to store garbage bags or other cleaning supplies. Buy a few plastic baskets for the bottom to keep everything neat and tidy.
Above the Cabinets
Unless you have an ultra-modern kitchen, there will be a gap between the top of your kitchen cabinets and the ceiling. Use this space to create storage in your condo kitchen. But don't just throw seldom-used gadgets up top. Instead, invest in a few baskets to make the space look like it was meant for storage.
Wire, wooden, or plastic baskets can all be used, depending on both your style and budget. If you can't see through the baskets, be sure to put a label on the front to make it easier to find items in the future.
Sort through seasonal items, small gadgets and accessories for entertaining. Basically, anything that is not used on a weekly basis can go above the cabinet.
Peg Board Storage
Peg boards are an extremely versatile form of storage. While they are traditionally found in the garage due to their utilitarian look, they can still be used to create storage in your condo kitchen. The first thing to do is measure the space you have on a wall and then have the peg board cut. Then, pick a color and paint. This will allow the peg board to blend in with the décor rather than stand out.
Just about anything can be hung from a pegboard if you have hooks strong enough. Pots and pans can be hung. So can aprons and oven mitts. You can find special containers that clip to a peg board where you can store smaller items such as spatulas and cutlery. Keep the items that you most often use in the middle. Reserve the bottom and top of the peg board for items that are used less often.
Combine the Island with the Table
Sometimes the best way to create storage in your condo kitchen is to repurpose an existing element. If you have either an island or a table, combine them into one. Make sure the island has shelves underneath for storage. Invest in a few bar stools to reach the height. Now you have a dual-purpose element that saves space for other items.