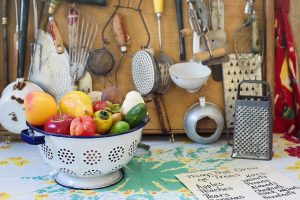 Everything old is new again, and this applies to your kitchen. A popular theme for kitchens is a vintage look, which can leave you wondering just how to decorate a vintage kitchen. Here are some areas to focus on to get a classic look.
Bold patterns
Vintage screams patterns. Vintage can actually mean a lot of different eras, from Victorian to 1970s, so be sure to pick a decade and stick to it. Whichever era you decide on will influence your pattern choice. Florals denote a more rustic, turn of the century charm, while paisleys will give a 1970s vibe.
To decorate a vintage kitchen with bold patterns, try to stick to one focus area. Otherwise, the patterns can become to distracting, especially in a smaller space. Options include floor tile, backsplash tile, or wallpaper. It might be a good idea to start with your patterned area, and then design around it. This way you can pick up accent colors within the tile or wallpaper, and coordinate around them.
Accessories
Accessories are at the heart of planning to decorate a vintage kitchen, and are arguable the most fun to pick out. Again, your preferred design era will dictate the accessories. Classic ideas include a china tea set. It's nice to have an open shelf for your tea set for others to admire. There's no sense hiding a beautiful set behind a wooden door so that no one ever sees it. If possible, find a plate rack where you can show off china plates. This can go on the side of an island or on a wall.
If you're going for a farmhouse feel, be sure to include practical elements. Canning is an essential part of farm life, so use mason jars as both accents and to store food items in. Check out local antique stores for a bread box or even a butter churn. Galvanized metal pails can act as a basket or a place to plant accent flowers. This is a chance to really repurpose antique items.
Authentic Touches
To truly capture a vintage feel in a kitchen, look for large items that seal the deal. Apron front sinks give a rustic feel and there are now many modern choices in this design. You can even decide to go all out and have a fabric curtain under the sink.
If your vintage era is the 1950s, look for appliances that give off this feel. There are a few brands that carry new, but vintage-inspired designs, although their rarity is reflected in their price. But, if you can budget for it, the look will be well worth it. It's always great to have both the fridge and stove matching, but no one will fault you if you can only incorporate one or the other into your design. And even though dishwashers are a modern convenience, their necessity may just trump any design ideals.