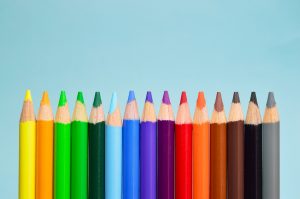 Color palettes can feel like too scary sometimes, but if you can take the plunge, a splash of color will make your kitchen really pop. To help you decide on how to elevate your kitchen, here are a few color palette ideas. Hopefully they bring a bit of inspiration to you.
1. Black and White Color Palettes
There is nothing more classic than a black and white color palette. The trick with this color combination is to choose wisely where you want the effect to take place. A black and white checkerboard tile can have a dramatic, decades-old feel. A black-speckled granite countertop can make the kitchen feel futuristic. Black light fixtures or handle knobs can be subtle and elegant.
As for the white elements, a classic subway-style backsplash is always a winner. White cabinets will never go out of style. There are also some nice white and grey marble or granite countertops.
2. Blue Color Palettes
There are a lot of blues to choose from, but finding one that matches your personality leads to a great experience. Dark blues should be used in small amounts as they can make a small kitchen feel smaller. Light blues, however, can be used in larger amounts as they often bring lightness and openness to a kitchen. Green-tinged blues like teal or aquamarine can lead to a seashore theme and are often found in vacation homes.
3. Red Color Palettes
Red is not often used in a kitchen, but when it's used right, people take notice. If you choose red, go big or go home. Drastic accents like ruby red glass wall tiles can make a big splash. So too can a deep red paint color. If you have an island, that is a great place to use red as a contrast to other colors like white, grey, or even black, in the rest of the kitchen.
If you're not too sure about how red will fit in with your kitchen, it's ok to start small. Appliances like a stand mixer often come in red, so you can accent your place first to see if it's a look you want to keep.
4. Yellow Color Palettes
The trick to a yellow color palette is to keep it a deep color. This means it can still be light or dark, but that the yellow doesn't look faded or old. Light yellow will brighten the room and bring sunshine inside. Dark yellow can create a warm feeling. Yellow is great when found in curtains or wall paint.
Similar color palettes to yellow include gold and bronze. These will definitely warm up your kitchen and are a welcome change from the nickel and chrome that most kitchens use.