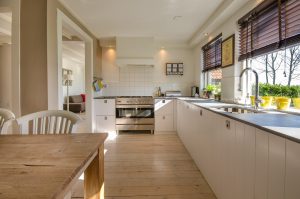 Kitchen flooring is important as it brings all of the elements together. It connects your appliances to your table and helps bring your design to life.
The right flooring also needs to be practical. After all, you will be standing on it, and most likely spilling food on it, so it needs to meet your needs. Choosing the right flooring for your kitchen can be difficult, but start with understanding the different types of flooring.
Tile flooring comes in an almost unlimited amount of choices. It is hard, durable, and always looks good in a kitchen. Tile flooring comes in many different shapes. It comes in black, white, and every tone in between.
Tile makes spills easy to clean up. The grout that holds the tiles in place should be sealed after installation to prevent stains on that part of the flooring. This also prevents any moisture seeping into the subflooring.
Hardwood
Hardwood gives a luxurious and warm sense to your kitchen. It comes in a wide range of types, the most common being oak and maple. Depending on the stain, hardwood floors can be light or dark in color.
Most modern kitchens flow into a dining area or living room, and hardwood kitchen flooring is nice if you want to use the same flooring for both areas. This way you can keep the same design style so that everything comes together.
Most hardwood flooring is finished so that it is low-maintenance. It can withstand spills and shouldn't stained; however, these should be cleaned up immediately to enable the floor to withstand the test of time.
Hardwood flooring is definitely an expensive option, but there is a cheaper alternative in engineered wood planks. These are layered planks. The top layer is real wood, but the underlayer is plywood. The cheaper material is reflected in the price tag. A nice bonus about engineered hardwood is that it sis more durable as the plywood is less susceptible to moisture like high humidity. It is a good idea to consider if you live in warmer, more humid areas.
Laminate
Laminate kitchen flooring has become the go-to flooring for most homes. This is because it looks almost like real wood, but costs a fraction of the price. It is also durable and easy to clean.
Laminate may look like wood, but it is actually an illusion. The top layer consists of a picture of wood that is covered in a clear overlay.
Unlike tile or hardwood, laminate is easier to install as it floats over the underlayment. Each piece of laminate is able to connect with another, creating a seamless layer. Many people have been able to install laminate on their own, further saving costs on their new floor.
One of the most important things to remember about tile is that its benefit of being durable, is also its downfall. Tile can be hard on the feet, so you may want to invest in a rug near the sink if you plan on washing a lot of dishes. Tile is also unforgiving; if you drop something on it, that object will most likely break.