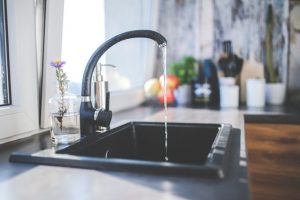 The latest kitchen design trends may be the big style for 2018, but that doesn't mean that they are right for you and your kitchen. Your kitchen needs to work for you, your family, and your overall home décor and design. Curious as to what some of the top trends are these days? Keep reading below!
Banquette Seating
Banquette seating was a big trend in the 80s and it's making a comeback. It has a more modern look and can create a wonderful dining area in an alcove in your kitchen. Usually, a bench seat is placed on a single side, sometimes two sides of the table. Other ideas include having a built-in bench on one side of the table, and modern chairs on the other side. Try adding pillows for a unique look, but keep it simple.
Black Fixtures
Black fixtures and faucets will be a big trend for 2018. It's a classic colour and works with almost all design styles. It's simple, modern and hides dirt, blemishes and water spots well. You'll probably need to add in a few other black elements to the kitchen. Some options are row of black cabinets, or stools, and light fixtures. This will add balance to the room, so it is not overly jarring.
Built-in Sinks
These sinks are becoming even more popular. The sink material is the same as the countertop. It creates a seamless transition between both and is visually appealing.
Concrete
Concrete is becoming more commonly used for countertops. It can be customized for colour, and it's affordable. You can even use it as a wall covering. If you're trying the wall option, keep it light, and you can add a soft texture to the wall.
U-Shape
If you have space, then try a U-Shaped kitchen unit that focuses on an eating area.
Hidden Hoods
Hoods used to be huge and were a showcase feature of the kitchen. Now there are more subtle hoods available. They can be hidden by a facade, or you can build it out, and cover it, or build a box around it, making it look like a floating hood. You could even create a mantelpiece above it.
No Upper Cabinets
This will only work if you have lots of storage elsewhere, but it can create an open looking kitchen. Make sure you accessorize the areas where the cabinets would have been, or it could end up looking like it was an accident, rather than a design plan.