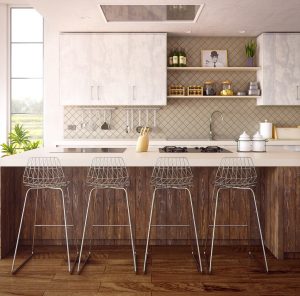 Planning a remodel of your kitchen can be overwhelming, especially as you don't want to forget anything. You need to make a kitchen that works for you and is effective for you and your family. Here are a few things you may not have thought of, that can make your design functional and gorgeous.
Adjustable Shelving In Your Cabinets
Cabinets are a must have in every kitchen, but you might not have thought about adjustable shelving. If the shelving size can be changed as and when needed, you'll be able to store even tall items, leaving less clutter for your counters and on top of your fridge.
Cooktop Stove
Your stove is not the place to cut costs. It's an appliance that will outlast almost everything else in your kitchen and one that you will probably use the most. Choose to spend more on a quality appliance, as you can save costs on other items.
Pot Rack
Pot racks are quite inexpensive and can be found in a wide range of styles. They hang your pots and pans, which frees up storage space elsewhere.
Extra Shelving
You could try a mix of cabinets and shelving to optimize your kitchen storage. It also breaks the room up and makes it look more open. You can use the shelving to store your most used kitchen items.
Centre Island
A centre island gives you a preparation space, more storage, and a dining area. If you have space and the budget, it should be a must-have kitchen accessory.
Tiles
Every detail counts, so try some high-end tiles to make a stunning backsplash or an accent by the sink area. These can add a luxurious feel to your kitchen.
Walk In Pantry
If you have space, a walk-in pantry could be the ideal solution for your storage needs. You can store non-perishable foods, supplies, and even your mop and vacuum to keep out of sight and maintain a clean, open space look and feel.
Outlet Plugs
Don't forget about the outlet plugs. You need to think about how many you'll need. Think about how many electrical appliances you routinely use.
Microwave
Some people are giving up their microwaves, but if yours is a staple part of your kitchen, think about storing it in the pantry, or keeping it in a designated cabinet.
Hidden Storage
Go for extra storage under your kitchen sink! It's hidden, out of the way, and helps keep your kitchen organized. You could even use these cabinets to store a built-in trash can.
Need some more inspiration for your kitchen remodel? Just ask us!