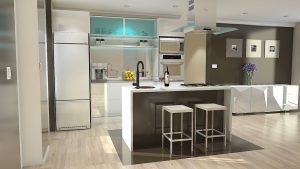 Planning on remodeling your kitchen? Fantastic! A remodel can help you create the kitchen of your dreams and turn uncomfortable work spaces into something you enjoy spending time in. It's an exciting project – but it's also a very major commitment, so it's good to make sure you're fully prepared before getting started. Here a few major questions you should try to answer before beginning a remodel.
How Will You Use Your Kitchen?
Some of us are happy to spend hours in the kitchen, whether it's cooking or baking or just using it as a communal gathering space. Others see it as just a functional space, good for serving its purpose and then mostly ignoring it. Yet others have it as a social focus point, with parties and entertainment revolving around the room. No matter what type of person you are, you want to make sure you have an idea on how you'll be using the room before remodeling it. Different types of uses have different needs – an island for people to gather around? Extra counter space for avid bakers? – and that will lead to different design goals.
What Is Your Budget and Time Constraints?
The exact costs and time commitments involved in remodeling can vary widely depending on a large number of factors. A budget is always a great thing to set in advance; an experienced contractor like the ones at Parada Kitchens will work with you to figure out how to get the most out of your budget without the risk of extra surprise fees late in the project. Time is another issue people don't always take into account before beginning work – remodeling the kitchen means you almost certainly won't be using the kitchen in the meantime! If it's your only place for cooking and preparing food, that's a major inconvenience. Take that into account when making your plans.
How Much Storage Space Will You Need?
One of the biggest reasons people remodel their kitchen is to add storage, so it's important to figure out how much you're looking for during the planning stages. Whether it's larger cabinets to hold appliances or open shelving to double as a place to display dishes, properly planning out your storage needs ahead of time will prevent complications from popping up mid-project.