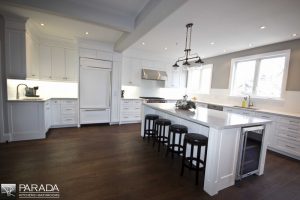 Parada Kitchens is your spot for transitional kitchen renovations in the Greater Toronto Area. But what exactly is a transitional kitchen?
A transitional kitchen strives to find the balance between the most popular kitchen styles available today. They might combine the warmth and tradition of traditional designs with the more clean and simple line and stylings of a contemporary style. It's sort of a catch-all term for people who are looking for the best of all worlds, and don't want to confine themselves to only one style. Here are some common features of transitional kitchens:
Mixing Natural and Artificial Materials
Traditional kitchens often opt for more natural surfaces, while contemporary styles look to use more modern solid surfaces or stainless steel. Transitional kitchens seek to blend the two – maybe you have wooden cabinets and a marble backsplash, but stainless steel and solid surface sinks and countertops. Transitional kitchens can draw from the entire range of available materials, making them a more dynamic style choice.
Neutral Colors
When you start introducing artificial surfaces, you can often bring out some very vibrant and strong colors, which contemporary design takes advantage of. Transitional kitchens, however, tend to dial that back, primarily using neutral and calm colors even with their less traditional materials.
Embellishment
Contemporary kitchens generally eschew decorative ornamentation. Traditional kitchens are stuffed full with it. As always, transitional kitchens look for a happy medium – you might see some more advanced millwork and fancy furnishings in key locations of a transitional kitchen; nothing overboard but enough to draw the eye.
Varied Textures
Because transitional kitchens don't get as colorful as contemporary ones and don't have as many decorative elements as traditional ones, texture is a great place to get extra style. This can be as simple as a larger tile backsplash up one wall, providing a tactile feel, or as complicated as three or four different materials working together in the same space.