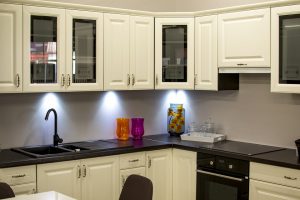 When it comes to the kitchen, people say it is the heart of the home. That can be very true for most people, and it means they want to spend a lot of time there and really enjoy it. But without the right type of lighting, that can be difficult. Kitchens that aren't well lit can seem dark and dingy, and can also be less cheerful to be in. That is especially true during the winter months, or at times when the weather is overcast or dreary. Fortunately, there is plenty that can be done about a dark kitchen. The main change to consider is the lighting, and there are so many choices on the market today to consider.
Different Types of Lighting Options
The main choices in lighting are ceiling lights of different types, under the counter lighting, and pendant lights. These are all good options, depending on how and where they are going to be used. The best thing a person can do for their kitchen is light it up the right way. A professional consult can help, because shadows and other issues may not be thought about by a homeowner until it is too late and lights are already installed. Fortunately, there are some ways to avoid those kinds of problems, or make additions and adjustments to help provide more light during a kitchen remodel.
Light Up the Under the Counter Space
With under the counter choices, it is possible to create plenty of light on the counter tops, or to provide a nightlight effect, depending on how much lighting is actually used. There are stick-on, battery operated choices and hard-wired options, both of which can be good for specific applications. Some under counter lights are much brighter than others, and there are fluorescent and LED choices to explore in order to get what is really needed.
Pendant Lights Work Well Over Bars and Islands
Pendant lights work well over a bar or an island, as they add not only light but a pop of color and something different. They're a pretty popular feature for today's home buyer, as well. While some people use the over-island space for a pot and pan rack, adding more light to a kitchen is rarely a bad thing. It is much easier to have more lighting and not need all of it, than it is to be working in a dark kitchen where light really is needed but not enough is available. With pendant lights, it is also possible to have a cozy meal or snack at the island or bar area without all of the kitchen lights being on. That can be a great choice for quieter moments.
Take Stock of Ceiling Space and Light Placement
Ceiling lights are the most popular choices for any kitchen, and come in a number of different types. Standard fixtures with common bulbs are often used over the sink, for example, and fluorescent lighting may be used in the main kitchen area. >Can lights are also a popular choice, because they are more recessed and keep the kitchen ceiling looking higher. They may also add more light to the space, and their placement can be adjusted during the installation so they avoid throwing shadows onto counter tops or in other areas where a lot of light is needed.
Take Time to Make the Right Lighting Choices
No matter which lighting choice is made, a combination of several styles often works best. Large kitchens may have a ceiling light over the sink, can lights throughout the kitchen area, under the counter lighting to help illuminate the counter tops, and pendant lights over a bar or island. With all the great lighting options that are available today, there is no reason to live with a dark, dreary kitchen ever again.