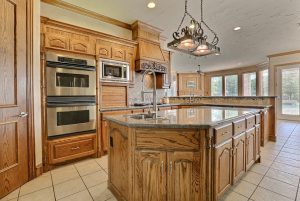 The kitchen is the most frequently remodeled room in any home – with it being such an important functional and central piece to the home, most people want to keep it up to date. That means there are a constant stream of new innovations and styles coming through the kitchen, as designers and renovators strive to give everyone something new and amazing for their home. Here are some of the current big design ideas people are going crazy about!
Big, Spacious Sinks
People are tired of trying to cram a dozen dirty dishes into too-small of a sink basin. Modern sinks are getting bigger and bolder, and often contain a variety of advanced features – built-in splashes and soap holders, powerful garbage disposal units, and as many as three basins, allowing you to soak, clean and prep all at the same time.
Quartz In, Granite Out
Granite has long been one of the go-to countertop surface for kitchens and bathrooms, but it's been falling out of style recently. Granite is very high-maintenance, and the current trend is for something a little easier to handle, creating a more functional space. Engineered quartz offers many of the same aesthetic benefits granite has while also being non-porous and low-maintenance. It's not quite a set it and forget it material, but it's a lot easier to work with, and generally less expensive, to boot.
Integrated Appliances
In an effort to win the battle against countertop clutter, integrated appliances are a big thing at the moment. With custom-built cabinets and panels for each appliances, you create a seamless, unified look to your kitchen (as opposed to the more slapdash and random look from a variety of different appliances from different makers) and keeps your appliances out of sight and out of mind when they're not actively being used.