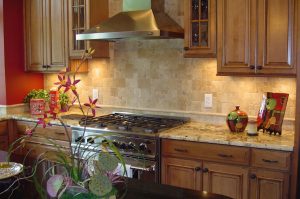 Cabinets are a bit of a utilitarian addition to your home – they're storage, just giving you a place to put all of your stuff. Whether they're in your kitchen storing dishes or in your bedroom hold knick-knacks, they're there to serve a purpose. That being said, there's no reason they have to just sit there – they can be part of your room's décor and style! Here are a few tips for how to turn your kitchen cabinets from bland to amazing:
Variety is the Spice of Life
While it's customary for kitchen cabinets to be more or less identical, there's no reason they have to be. Different heights and color schemes can bring more visual attention and create more interesting sight lines – consider bookending your cabinets with longer or taller ones to create a more dramatic sweeping effect.
Color!
Kitchen cabinets are a great place to add a splash of color to an otherwise monochrome room. A splash of a bright, primary color can turn a kitchen from drab to exciting in no time flat. Obviously, you'd want to match the color of your cabinets to the color of your walls and other furniture, but they can serve either as additional sources of main color or splashes of accent color throughout your kitchen.
Add Lighting
Lighting can be one of the most difficult things to add to a kitchen – and your cabinets are a great place to do it! A little undercabinet lighting will bathe your countertops in bright white light, which will make everything much easier! If you use a dimmer switch, it also can create mood lighting effects, as well. It's a brilliant idea – literally!
For more great ideas for your kitchen cabinets, contact the experts at Parada Kitchens. Our expert designers can help you design the kitchen of your dreams!