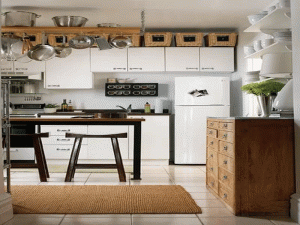 Kitchens need storage. They need lots of storage. They need clever storage. With so many pots, pans, appliances and general clutter, finding ways to maximize storage in your kitchen is a must for most kitchen renovations. The experts at Parada Kitchens can help ensure your new kitchen is filled to the brim with hidden storage. Here are a few of our general suggestions:
Varied Drawer Size
Kitchen equipment is not one size fits all! If you fill your kitchen with only standard-sized drawers, you'll find a great number of things that don't quite have a fit. By having drawers of different sizes, you can have specialized uses for them – think a small, thin drawer for spices, or a taller drawer for cereal boxes.
Kitchen Islands
Kitchen islands are a great way to add extra storage to a crowded kitchen. It's not just an added surface; most of the interior can be used to add those extra cabinets or drawers you've been looking for. It's a great way to use that extra space in the middle of a kitchen that runs along the walls; L-shaped kitchens are perfect opportunities for kitchen islands.
Use Corners Wisely
Corners can be tricky, but they can also be a great opportunity. Rather than using standard cabinets in a corner, which ends up with blocked or wasted space, specialized units like carousels or pull-out mechanisms can help you maximize the amount of storage you get out of that 90-degree angle.
Use Your Height
If you're struggling for storage, cabinets can be extended to reach the ceiling. While items on the very top aren't practical for everyday use, it's a great place to store those items you use only occasionally – special baking tins or other specialized equipment, rarely used appliances, and things of that nature. Your kitchen exists in three dimensions, use all of it!