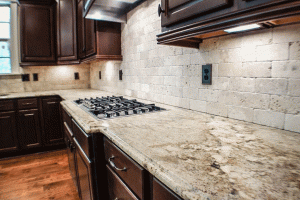 The choice of material for your countertop is one of the most important decisions you'll make when renovating your kitchen. From solid surface to marble, the choices out there are nearly endless, each bringing with it its own particular pros and cons.
Granite is one of the most popular surfaces available at the moment, delivering gorgeous aesthetics. Like any other surface, however, it has its positive sides and its negative sides. Here's a quick rundown of the pros and cons of granite countertops.
Pros
Granite is simply one of the most beautiful countertop materials available. It's a natural look that many synthetic countertops can't really match, and they're unique to your kitchen – they're cut from solid rock formations, so no two granite countertops are exactly alike. They've also been popular for decades now, so there's little chance they'll end up looking dated or otherwise out of touch.
Granite doesn't scratch – or, at least, you have to put real effort in to scratch it. It will dull your knives before you harm your surface. It also resists heat, making it a great choice near your cooktop. When properly sealed, it's also highly stain resistant – it won't absorb liquids, preventing stains and bacteria from seeping into your countertop.
Cons
"When sealed" is a key phrase in that last paragraph. Granite countertops need to be sealed because the rock is naturally porous. If not sealed – or improperly sealed – it will absorb stains, making them nearly impossible to remove. It's also a health hazard, with bacteria seeping into your countertop and potentially contaminating anything else you place on it. Yearly sealing is recommended.
Granite doesn't scratch, but it can chip with enough force. Drop a heavy object onto the corner, and you may well find a piece chipping off. If it does chip or stain, it's going to be expensive – as a natural stone, granite is a much more expensive option than manmade materials.
Final Verdict
Are you good at keeping up with home maintenance? If so, granite might well be the choice for you – its timeless beauty and strength make it a wonderful choice when taken care of. If, however, you have a busier lifestyle and don't want to worry about maintaining your countertops, a solid surface, laminate or quartz countertop may be more to your liking. It all depends on exactly what you use your countertop for and how much work you want to put in. The experts at Parada Kitchens can help you make your final decision.