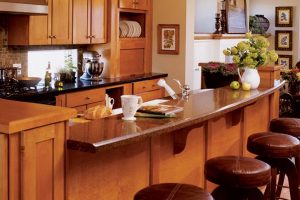 The most important aspect of a kitchen is function, of course – you wouldn't want a kitchen you couldn't cook in! Once that's achieved, however, you have a wide range of options and styles to choose from. You want a kitchen that looks fabulous – and one that stands out from your neighbors, in a positive, modern and exciting way.
A unique kitchen design can help your room really stand out. The experts at Parada Kitchens can help create a custom-built kitchen that will fulfil your needs, wants and stylistic choices and work best in your space. Here are some more unique kitchen design ideas to consider when trying to think outside the box.
Add Industrial Lighting
Industrial-style lighting has become a very "in" kitchen addition in recent years. Black or stainless steel construction, wire cages instead of sconces, clear or antique light-bulbs – industrial-style accoutrements add a chic vibe and are an interesting shift from traditional chandeliers. With rich tones and alternative metals, industrial lighting helps give your kitchen a unique feel without sacrificing a well-lit room.
Smart Tech
Smart technology has come to the kitchen, and while you're replacing appliances and upgrading your room anyway, why not go all-in on the smart trend? Countertops can be equipped with charging points for your device with modern charging surfaces. Ovens, stovetops and cooking appliances can connect with your smartphone, allowing you to adjust cooking temperatures and durations at the push of a button. Smart tech is here to make your life easier, and it could make your kitchen a modern marvel.
Upgraded Islands
Kitchen islands are a classic piece of kitchen design, but with a few tweaks and customizations, you can create a unique addition to your room. Glass or mirror doors on kitchen island storage units provide a nice alternative to the solid, wood-paneled look, as well as providing more shelving space and storage room. It can convert a functional piece of furniture into a display case, allowing you to showcase your own unique style.