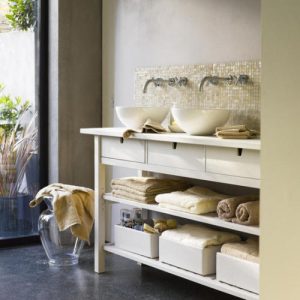 Your bathroom vanity doesn't have to be merely a functional piece of furniture. A beautiful bathroom can add extra spice and luxury to your home, and your vanity can be the centerpiece of that remodel.
Most people think of their vanities as a place to hide unsightly plumbing and to stash extra towels and toiletries, but it's a key piece of furniture. And, like all pieces of furniture, there are a variety of options and decisions you can make – you might be surprised at the potential variety you can get out of your bathroom vanity! The experts at Parada Kitchens have some suggestions for you – why not try one of these great ideas?
Sliding Doors
If your bathroom is particularly narrow – to the point where pulling out a drawer or opening a cabinet seriously hampers your space to move – why not try a sliding door? Not only does that prevent an open door from cramping your space, but they generally also leave more room underneath your basin exposed, allowing to use that space for other things – it's a great idea for a smaller space.
Offset Drawers
Your vanity probably has under-sink storage, but often, there's a fake panel directly under the sink. This fake drawer is there just to hide the basin and plumbing, and doesn't serve any useful purpose, often leaving you with just one large, empty space to use for storage.
By offsetting drawers to either side, you get more storage space, and often extra counter space. That extra counter space can be used to store everyday items, or even for decorative purposes
Corner Vanities
While vanities have traditionally been central pieces of furniture, there's nothing that says you can't place them in a corner! By hugging the corner, you're again maximizing the space you have available, and providing room for extra drawers and shelves at the side of your sink basin without surrendering too much space.
A little creativity goes a long way. Parada Kitchens can help make your bathroom a room you can be proud of!