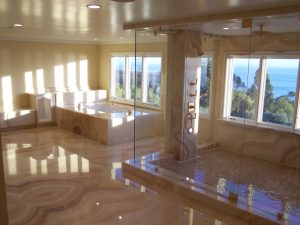 The bathroom of your dreams is only a renovation away.
Don't put up with faulty plumbing, or piles of clothes. Don't feel that you're saddled with stained, lime-encrusted faucets or moldy ceilings and floors. A bathroom renovation can turn a disaster area into a cozy and comfy room – everything you've always dreamed of!
OK, so maybe you haven't spent every waking hour dreaming of a new bathroom; it does tend to inspire a little less passion than a kitchen or living space. That being said, there are some great additions that can turn your bathroom from a blah space to an amazing addition. Here are three things to consider when designing your perfect bathroom.
Divide and Conquer!
One of the biggest issues people have with their bathrooms is that they're often a one-person-at-a-time sort of room. When it's in use, it's usually off-limits to the rest of the household. This is why a divider is a great idea – they're an extremely practical solution, keeping the bathroom available in even the busiest households. No longer is everything off limits just because someone's taking a shower – whether it's a simple, freestanding divider or a more complicated built-in project, a divider makes your bathroom more functional while also providing the illusion of extra space.
Pick a Style
Some of us prefer a dramatic, natural look to our spaces, and that can be reflected in the bathroom, as well. Deep mahogany or beech wood cabinets and worktops can make your bathroom feel like the great outdoors – a romantic look, even if you're in the middle of a bustling city. Others prefer a more workmanlike, practical alternative – clean, white cabinets and functional work surfaces first and foremost. It's your bathroom; feel free to experiment a little in the design phase to find out what works best for you.
Flooring Concepts
A cold bathroom floor is one of the worst things about getting up in the morning. However, carpet in the bathroom is a no-go; not only does it simply feel off, but it's also a magnet for mold and rot, as it will hold in water from the shower and sinks. No, you'll want to go with a hard floor, and we find porcelain or ceramic tile to be your best bet; it's waterproof and inexpensive, so you get great functionality, but it also can create a rick, textured, solid feeling, unlike laminate. As for those cold mornings, you can either install radiant or heated tile – or just invest in some high-quality bath mats where you'll be resting your feet.