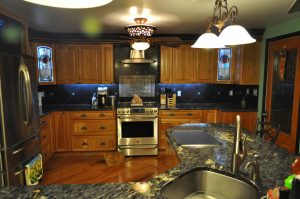 Starting a full renovation of your kitchen can be a very exciting time. It's an opportunity to get a fresh start and build the kitchen of your dreams; the perfect kitchen that will give you years of satisfaction. Before jumping in with both feet, however, it's important to take the time to make appropriate plans to ensure everything goes a smoothly as possible. Here are five important key factors to take into account before beginning your remodeling your kitchen.
Define Your Goals
The very first step of any major renovation project, in the kitchen or elsewhere, is to decide just what it was about your old kitchen that you're attempting to improve, specifically. Did it lack functionality—a lack of counter space, hard-to-access storage or poor workflow can all be valid reasons to redo your kitchen. Does it not fit your current lifestyle—perhaps you want a breakfast bar, or lower cabinets and storage spaces. Are you looking to improve its aesthetics—does it look outdated and kitschy? By clearly defining the goals for your project ahead of time, you can ensure that your design and remodel will achieve what you're looking to get out of the process.
Pick Something Timeless
Close your eyes for a minute, and imagine a kitchen from the 1970s. The bizarre wallpaper, the tacky linoleum, the excessive wood paneling on everything… definitely an artifact from that era. Remember, though, that all of that was considered modern, trendy and exciting when it was originally installed. The lesson to learn there is that you want to be hesitant about adopting the latest trends and styles. You want your kitchen to last a long time, and the last thing you'd want is for your kitchen to seem tacky and dated in just a few years. Picking timeless design elements helps ensure that your kitchen looks fantastic for years to come.
Be Prepared for Delays
It's said that "no plan survives contact with the enemy", and this is doubly true when it comes to home renovation. A full kitchen renovation is a big job, and despite the best efforts of everyone involved, sometimes delays are unavoidable. A faucet design you have your heart set on arrives late, pushing back the installation of plumbing, affecting the timetable of cabinet installation, and so on. While everyone strives to keep delays and disruptions to a minimum, being prepared for contingencies can make the entire process less stressful.
Choose Your Appliances Wisely
More than any other room in your house, your kitchen's design is impacted by your appliances. Your refrigerator, oven, stovetop, dishwasher, microwave—all are likely to have prominent places in your new kitchen. It's easy, however, to forget about this, and pick lovely surfaces and materials for your countertops and cabinets, only to realize your appliances stand out like a sore thumb. Choose your plan with your appliances in mind, or make sure to set part of your budget aside for buying new appliances that match your chosen décor.
Visualize Your Décor
What sort of furniture are you going to have in your new space? What colors and textures will be prevalent? How much space will everything need? Creating a "mood board"—an arrangement of images or materials that will help evoke the style you're looking for in your redesign—isn't just a good idea to get inspiration; it serves as a guideline to ensure that you're keeping everything thematically on track. You want your final kitchen to be both practical and aesthetically unified, and that includes the things you'll be putting into it.
Keep these five key factors in mind when planning your next kitchen renovation, and you'll be well on your way to getting the kitchen of your dreams. A little extra planning at the beginning can prevent tons of headaches down the line.