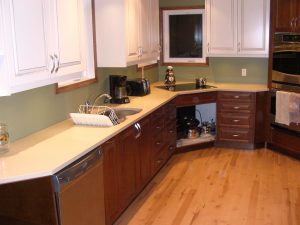 When it comes to kitchen countertops, there's a myriad amount of materials to choose from, each with their own pluses and minuses. It's not a decision to make lightly; countertops play a major role in both the look and functionality of your kitchen. It's important to make the proper choice of material for your lifestyle and aesthetic choices. Fortunately, with such a wide range of possibilities, you should be able to find something that matches your usage needs, your design choices and your budget constraints. Here's a quick look at the pros and cons of several common kitchen countertop materials.
Granite still reigns supreme as one of the most popular and elegant choices for your kitchen countertop. It's a beautiful, strong, natural surface. The unique grain in each block of granite ensures that your countertop will be unique, as opposed to man-made surfaces which will look identical from home to home. However, it's important to remember that granite is a porous surface. That means you'll have to seal it regularly to avoid bacteria and mildew from permeating its surface – you have to factor in regular upkeep for a granite counter.
Wood is a surprisingly durable surface, with most scratches and nicks able to be buffed out. Wood gives you a warm, natural feel in your kitchen, and can come in a wide range of styles and price points, depending on thickness and finish. However, wood can be easily damaged by direct heat, say, from hot pans or pots. It also has a tendency to warp if not given room to breathe; you don't want to install wood in a very tight space or on top of a substrate.
Stainless steel makes for a durable countertop that is very easy to clean. It's a non-porous surface, so it's water-, heat- and stain-resistant. It can make for a chic and contemporary look for your kitchen, and can be shaped and formed to any layout or size you desire. Its reflective properties also help your kitchen look brighter as it reflects your lights. However, stainless steel is very easy to scratch, and can be dented and dinged up under regular use. They can be very noisy, and in the winter, very cold.
Engineered stone comes in many brands – Caesarstone, Cambria and Silestone are just three of the most popular. Engineered stone is a mixture of quartz and binding elements, giving you many of the aesthetic bonuses of natural marble countertops, with the benefits of being a solid surface; no sealing required! Its biggest con is it's price; engineered stone is one of the more expensive manufactured surfaces out there.
Solid surface countertops, including Corian and Wilsonart, are an acrylic and polyester blend that makes a great countertop. It's a non-porous surface, meaning there's almost no regular maintenance required. Any scratches and burns can easily be sanded out, keeping your surface looking good even under heavy use. There's a wide variety of color and pattern options, including options you simply won't find in nature. Unlike engineered stone, solid surface countertops look artificial and man-made; they're not a good replacement for granite or marble if you're looking for a natural look. It also is more vulnerable to heat damage than other surfaces.
This only scratches the surface of your countertop possibilities. Concrete, laminate, bamboo, soapstone, marble, granite, tile – there's almost no end to your choices. An experienced kitchen designer can help walk you through all of these choices and more, helping you select the best surface for your unique situation.