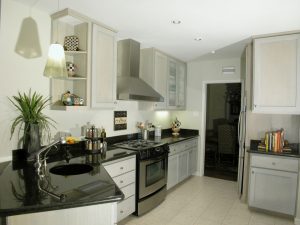 A kitchen renovation is a wonderful chance to put your own unique stamp on one of the busiest rooms in your home. Kitchen renovations are an opportunity to put some of your own unique style and quirks into your home, as well as show off to friends and neighbors.
There are, of course, some standard features any kitchen renovation is going to include. You'll install new countertops, upgrade your cabinets and appliances, and perhaps work in some new flooring and plumbing. These are all fairly standard, and if you have any friends who have recently remodeled, you'll probably have a good idea of the sort of positive changes these standard improvements can make.
But why limit yourself to the basics? Your kitchen renovation is a chance to work in some ideas that are a little more off the beaten track. If you're looking for a more unique reaction to your kitchen, why not incorporate some of these great ideas?
Can't decide whether you want the benefits of a kitchen island or more open space in your kitchen? Why not get the best of both worlds with a kitchen island on wheels? A moveable island allows you to customize your kitchen for different situations. If you're preparing a big meal, you can use the island for extra prep space. You can then neatly move it out of the way to leave the kitchen more open when you're done. If your kitchen footprint is limited, a movable island is a great way to get extra surfaces without sacrificing space.
Low on counter space? Don't like seeing your counters cluttered with toasters, coffee makers, and other every day appliances? An appliance garage is a great way to organize all your regularly used appliances, and keep them out of the way when they're not being used.
Love the idea of a stone countertop, but afraid they'll be too cold in the morning? A radiant-heat mat can be installed under your countertop, which can take that extra chilly edge off of granite, marble, quartz and other stone surfaces. They can raise the temperature of your countertop by 20 degrees; perfect on those cold, winter mornings.
When you're planning your kitchen renovation, don't be afraid to think outside the box! Consider it your opportunity to add a special signature addition to your kitchen; one that will benefit you and your family for years to come.