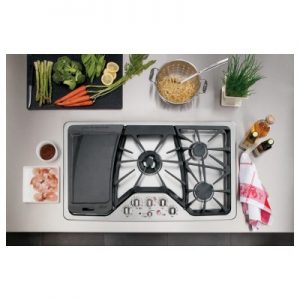 One of the most important aspects of any kitchen is the cooking surface or range – that is, after all, the essential function of a kitchen.  In most kitchen remodels, however, it seems to be relatively low on the priority list, behind countertops, cabinets and islands.  While all of those aspects can add great aesthetic beauty to a kitchen, form without function isn't particularly useful.
Benefits of a Cooktop
Most people simply use a range for cooking – a combination stovetop and oven – but a kitchen remodel is the perfect opportunity to consider splitting these two items up, which has several benefits over a traditional combination unit.
Freed of the need for burners, a wall oven can be placed at a more convenient height, eliminating the need to bend over to load and unload it.
Your cooktop can be placed anywhere in the kitchen, rather than needing all the room for a bulky oven underneath.
A smooth-surface cooktop can blend seamlessly into your countertop, creating a sleek, elegant look.
A separate cooktop can allow for more room for wheelchair access for handicapped cooks, or for extra cabinet space.
Having separate cooktops and ovens means you can pick the features of the two independently, allowing more customization to fit your needs.
These benefits can easily outweigh the costs of purchasing and installing two separate appliances.
Picking a Cooktop
There are three primary different types of cooktop available: gas burners, radiant electric tops and induction cookers.  All three have their own distinct advantages and disadvantages, and the one you choose will depend on your specific situation.
Gas burners provide instant heat and are quick to respond to changes in temperature, but require a supply of gas and are harder to clean.
Radiant electric cooktops look sleek and smooth, and their flat surface is the easiest to clean by far. They're more expensive, however, and can be more complicated to repair.
Induction cookers are safe to the touch, which is important if you have small children, and are highly energy efficient. They can be expensive, however, and require ferromagnetic (i.e., stainless steel or iron) cookware to work.
Pick Your Features
There are dozens of different models of cooktop to choose from, and each have their own special features and layouts.  For instance, there are the controls: some cooktops have controls vertically on the front, which frees space on your cooktop surface but also places knobs where they can be easily bumped while you work.  Others have controls horizontally along the side of the burners, taking up space but much harder to accidently hit.
Some cooktops use classic twist knobs, but more expensive electric models have electronic touch controls – perfect if you're looking for that smooth, flat look across your entire countertop.  Electric models can include timers, emergency shutoff safety features – even pre-programmed heat profiles, like hitting the popcorn button on your microwave.
There are dozens of options to choose from, at all different price points.  Your final decision will be based on what you specifically do in your kitchen, but regardless, choosing to have a separate cooktop installed gives you much more flexibility and freedom in your decision making process.