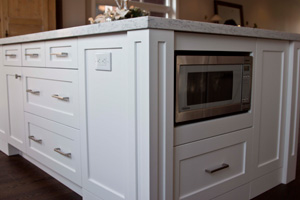 If you want to make sure that your new kitchen design is everything you hoped it would be, the key to success lies in paying attention to the details. Get these right, and you should be rewarded with a new kitchen that meets all of your needs and that truly lives up to your dreams. The big decisions, such as what colour to paint the walls, what type of flooring and countertops to have and what style of kitchen cabinets, are all fairly obvious and you will not need reminding about these. What you will find in the list below are all the details that are often overlooked until the very last minute.

The Details of Your New Kitchen Design
You've picked the paint for the walls, the natural stone countertops and custom kitchen cabinets are on order, and you are having the flooring replaced as we speak. Is there anything you have forgotten in your rush to make a start on your new kitchen? Take a look at the list below and see.
Lights – They may seem like a fairly obvious feature but you would be surprised at the number of people who get so involved in picking colours, cabinets and major appliances that they forget the lighting in their kitchen completely. Good lighting is an integral part of any successful kitchen design so make sure that you devote some time to checking out what type of lights are available in your part of Toronto or wherever you happen to live. You should choose the lighting units at the same time as everything else, to ensure a uniform design that works well.
Plumbing Fixtures – The type of faucets that you choose for your kitchen sink could help to tie the whole theme of the room together, or they could, if chosen carelessly, tear it apart. Whilst it is not necessary to consult a kitchen design expert when choosing new faucets, it is a decision over which you should take your time. Just make sure that whatever you buy will not stick out like a sore thumb in your new kitchen but rather will complement the rest of the fixtures and fittings perfectly.
Cabinet Handles – Many homeowners spend hours poring over glossy brochures featuring a vast array of kitchen cabinets but in their eagerness to choose the right colour and style of doors, they forget about the handles altogether. The right type of handles could add the perfect finishing touch to your new kitchen so make sure that you look at all the available options at the same time as you are choosing the doors themselves.
Other details that you should not forget include small appliances, such as the kettle, microwave, coffee machine and toaster. If you are aiming for a design that looks really polished and stylish, it is the little details that will determine how successful you are in achieving your goal. For help and advice on all your kitchen design choices, call Parada Kitchens today.