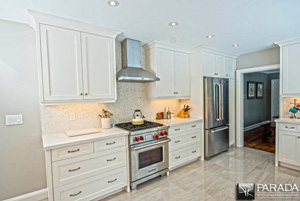 Are you currently trying to decide whether your kitchen could do with a facelift and if so, how far you should go? In that case, you need to take a look at our guide to kitchen cabinet refacing, which has been put together to help you decide whether this is the right choice for you at the moment. In the end, it is of course your decision and nobody else has the right to tell you what to do. What you will find in this short article, is a collection of questions which, as you think about your answers for each one, will hopefully help you to make up your mind as to what is really the best option for you and your family.

Is Kitchen Cabinet Refacing the Best Solution?
If you ask all of the kitchen design gurus in Toronto whether refacing is a good idea, you are sure to get a wide variety of answers. However, one thing that all of the design experts you question will probably say is that it really depends on the individual and what he or she is hoping to achieve.
Does Your Kitchen Look Tired? – If you are really happy with the existing design of your kitchen but you feel that it is starting to look a little shabby, kitchen cabinet refacing could be the perfect solution for you. The great thing about refacing is that you can keep exactly the same colour scheme and design as you already have, if this is what you want. However, once the work has been completed, you will have a kitchen that both looks and feels brand new.
Is Your Budget for Changes Fairly Tight? – If you would quite like to completely change the look of your kitchen but you simply aren't prepared to spend a large sum of money on renovations at the moment, you may well find that kitchen cabinet refacing is the most practical and cost effective solution for your needs. Whilst the layout of your kitchen will remain unchanged, as will the countertops and appliances, replacing the veneer on the cabinet boxes, along with the doors and drawer fronts, will make a huge difference to the overall ambience and the décor.
Have You Damaged Your Cabinets? – If you or a member of your family accidentally damages your kitchen cabinets, refacing could be the cheapest way to restore them to their former glory. If you fancy a change at the same time, you can of course elect to replace the existing veneer and wooden panels with completely different ones. Many people do take the opportunity to make big changes at a time such as this.
There may be other reasons that kitchen cabinet refacing is the right choice for you but the ones listed above are those most commonly cited by our customers. If you want to find out more about refacing and how much it might cost, please call us during business hours or send an email at any time.