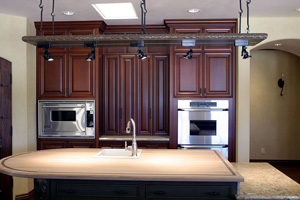 Homeowners in Toronto and elsewhere in Canada have a great choice of standard cabinets when renovating their kitchens. Given this fact, you may have asked yourself just why you should pay the premium that custom kitchen cabinets often attract. The short answer to this question is you shouldn't, at least not if standard cabinets can meet all of your needs at an attractive price point. The long answer, as you might expect, is a little more involved.

What Custom Kitchen Cabinets Have to Offer
There are a number of reasons why custom cabinets might be a better choice for your new kitchen, some of which are listed below.
Sizing – The first thing you will notice when shopping for standard kitchen cabinets is the fact that they come in a range of standard sizes. This makes it easier for manufacturers to produce a large volume of cabinets at a low price point but it can cause problems for homeowners with very specific needs. If you would rather have furniture that is designed to fit your kitchen, as opposed to having to design your kitchen around the available cabinets, custom units are almost certainly your best option. Owners of properties with unusually shaped kitchens are likely to find that standard units restrict their options quite severely.
Design – If you would like to choose your own unique combination of wood, handles, doors and cabinet bodies, custom kitchen cabinets are the only practical solution. The best way to determine if this is something that you would like to do is to take a look at the cabinets in stock locally and see if any of them will fit in with your proposed kitchen design. If it looks like you are going to have to make too many compromises, by going with standard cabinets as opposed to custom units, you should probably opt for the latter.
Quality – There is no doubt that custom units are the best choice if quality is your prime concern. Produced by experienced and highly skilled cabinetmakers, using the very finest materials available, the best custom kitchen cabinets are of a much higher quality than their standard counterparts. The quality of the units that you order will of course be dependent on the materials that you specify, so be prepared to do a little research for the best possible results. You should also research the company you are going to order them from, to make sure that they are a reputable firm with a good track record of delivering on their promises.
If you would like some expert advice regarding the buying and fitting of custom kitchen cabinets in your home, please do not hesitate to call us at Parada Kitchens whenever you have a moment to spare. We can talk you through all of the options that might be suitable for your home and explain the effect that choosing various different options might have on the delivery times and overall cost of your new cabinets.