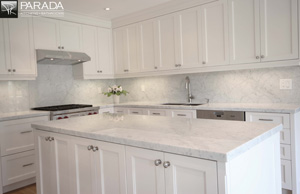 The doors are the most noticeable part of your kitchen cabinets so it is vital to pick the right ones, whether you are renovating the entire room or just the cabinets themselves. They will play a central part in any décor that you choose for your kitchen and they may also have an impact as far as functionality is concerned. There are many different styles from which to choose not to mention the numerous different material and colour options that are available for custom kitchen cabinets in Canada. It is for this reason that we decided to put together a short guide, featuring the most popular door styles on sale today.

Which Doors Are Right for Your Kitchen Cabinets?
Before you choose a certain style, colour or material for your doors, think about the look that you are trying to create in your kitchen. It is also a good idea to come up with a budget for your new doors, so you can focus on those options that fit both your pocket and your tastes in kitchen design.
Recess Panels – This is a very popular style owing to the fact that they work equally well in both contemporary and traditional kitchens. For a light airy feel, choose woods such as maple birch or hickory when ordering this type of door for your kitchen cabinets.
Shaker – This style needs no introduction and in our opinion is a great choice for casual kitchens. A dark finish such as teak or cherry mahogany works well when using this style of door in a warm, friendly kitchen.
Slab – The slab looks exactly like it sounds: a nice solid slab of your choice of wood, with no frills. It is an excellent choice for modern kitchens and looks especially good in a plain black or white finish. If you prefer the look of natural wood, soft maple and walnut are two options that are worth further investigation when ordering slab doors.
Louvre Doors – A classic design that looks great in colonial-style kitchens, white painted louvre doors are one of our personal favourites. If you would like to recreate a slice of the Caribbean in your own home, try painting them in turquoise, pale blue or any other pastel colour that takes your fancy. Paired with white kitchen cabinets, they will look fantastic.
Mullion Doors with Glass Panes – If you have a beautiful crockery collection that you would like to show off to visitors, mullion doors with clear glass panes could be the ideal solution for your kitchen cabinets. Add internal lights and you have the perfect display cabinets. If you have young children in the home, it may be best to use these with wall-mounted units alone.
If you are interested in these or any other style of cabinet doors, please feel free to call us at any time for further details. Alternatively, come and see our collection for yourself at our Toronto showroom in Dundas Street West.