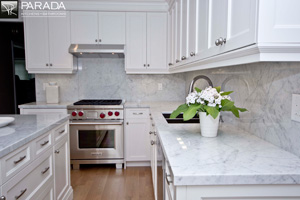 Now is a fantastic time to be renovating your kitchen, with good quality cabinets available in some really amazing styles. However, many Toronto homeowners find it difficult to choose a décor that complements their modern kitchen cabinets perfectly, which is why we decided to collect a few tips from the experts. If you have found a cabinet design that you absolutely love but you are not sure what type of colour scheme and overall décor will work best with it in your kitchen, the following list should give you some food for thought.

Creating the Perfect Setting for Your Modern Kitchen Cabinets
There are a number of areas on which you should focus when putting together a new kitchen design featuring modern cabinets. Below are the most important of these, along with some tips on the best choices for each area.
If you are still not sure what type of décor would go best with modern cabinets, we would be delighted to be of assistance. Please call or email us with your questions and we will answer them as soon as we possibly can.