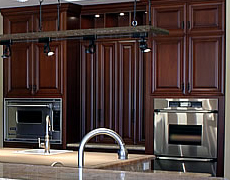 We've all been there before, faced with a choice between cheaper, more generic fixtures and fittings and higher quality customised solutions. The only reason to go with the first option mentioned is if you can't afford the second option. Your kitchen is without question one of the most important rooms in your house; one that every member of your family will see several times every day and kitchen cabinets are a vital component of that room. Not only do they occupy a very large part of the kitchen, but how well designed they are will have a direct impact upon the functioning of the room too. We're going to explain why custom kitchen cabinets are the only way to go if you truly care about your kitchen.
Why Custom Kitchen Cabinets Are the Only Option
Replacing your kitchen cabinets is something you might only do about once a decade. It's a big deal! You might think that you can stroll into your local big box store and find some exceptional kitchen cabinets for very little cost, but the truth is that this a pipe dream. We're not disputing that some of the kitchen cabinets on their displays might look good, but they can't compete with custom kitchen cabinets in terms of longevity and performance.
Accommodate Your Preferences – Good kitchen cabinet design isn't just about storing items, it's about providing easy access to anything in the kitchen. Now, we all have our own preferences in terms of how we like to cook and do things in the kitchen, which begs the question "why would you let someone else design your setup??!" And that's effectively what you're doing when you buy stock cabinets. They are designed based on the needs of the average person. What if you're not average in the sense that you have some unusual habits or preferences.
Make Use of Every Last Square Inch – Unfortunately we're not all lucky enough to live in a massive mansion with 10 bedrooms and a kitchen the size of a football pitch. Some Toronto homeowners have very little space to work with but custom kitchen cabinets can help you to get the most out of that space. Their design can be tailored to the shape of the room, can account for uneven walls, can be shallower in one part of the kitchen and deeper in another… you get the picture. Just like the point above, a stock cabinet is not designed with your kitchen in mind.
Create Your Perfect Design – As we've already said and will continue to say, the kitchen is the central hub of any home. Why would you want to wake up every day for the next 10 years and not walk into a kitchen that you love?! It's exceptionally hard to achieve that using generic kitchen cabinets, as there is simply not a lot of choice. If your tastes are somewhat different to the "norm" you're going to be left disappointed. With custom kitchen cabinets, however, the vision you have in your mind can almost certainly be recreated in reality.
For more information and ideas about custom kitchen cabinets in Toronto, contact the team at Parada Kitchens today for an informal chat.
Contact us for custom kitchen cabinets in Toronto