After years of saving, planning, and delays caused by everything from the birth of a child to work related travel, the time is right for the kitchen remodelling project of your dreams. You have picked out paint colours, selected new appliances, flooring, and lighting, but the final sticking point is cabinetry. Which do you choose and why? New custom kitchen cabinets or stock cabinets? At Parada Kitchens & Bathrooms, our expert designers have helped hundreds of customers throughout the Greater Toronto Area realize the goal of a beautiful, affordable new kitchen and stand ready to help you do the same — on time and within budget.
Custom Kitchen Cabinets Versus All Others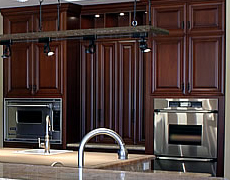 For most consumers, the cost of a project is a major consideration when it comes to home improvement projects, and for good reason. According to Remodelling Magazine, the price for a kitchen renovation can range from about $15,000 for a basic project to well over $60,000 when you factor in options such as custom kitchen cabinets, professional grade appliances, and other accessories.
Cabinetry, of course, is a major component of a kitchen or bath remodelling project, but homeowners have a wide range to choose from, including standard cabinets, semi-custom cabinets, and finely crafted custom kitchen cabinets like the ones we are famous for throughout many Toronto communities. But how do you tell the difference?
In most cases, stock cabinets are usually made in a factory and shipped ready-for-sale to wholesalers, home improvement centers, and other retailers. They are available in different colours and styles, but offer little or virtually no customization options. Standard cabinet sizes are based on units of the number 3, with most widths starting at 9″ and going all the way up to 48″ wide in 3″ increments.
In rare cases you will find stock cabinets made of wood, but standard build materials include medium density fibre board (MDF), laminates, and other composite materials or light wood easy to pack and ship for quick delivery. Stock and semi-custom cabinets are often found in hotels or apartments and are a fixture in modular storage for garages, basements, and craft rooms.
Semi-custom cabinets are available in a wider range of sizes and styles and are often made side-by-side in the same factory with standard cabinetry. The difference is semi-custom cabinets can be ordered with minor style and sized modifications — almost "made to order," but not quite. Though these types of cabinets are not the same quality as custom kitchen cabinets, they offer more layout and design options for homeowners who can afford to spend a little more on furnishings. But like custom cabinetry, they are not built until an order has been received, resulting in a slightly longer lead time for delivery.
At Parada Kitchens & Bathrooms, our custom kitchen cabinets are all about choice. Homeowners can choose from a wide range of styles, accessories, and build materials, but the bottom line is our designers work with clients on a one-on-one basis to determine goals, personal tastes, and how the final package exceeds expectations at an affordable price. All of our made to order cabinetry gives the customer complete freedom of choice in shapes and dimensions, and can accommodate virtually any kitchen layout imaginable, from a small eat-in configuration to a wider open space with islands and standing height countertops for quick meals or casual entertaining. The only limit is your imagination.
Parada Kitchens & Bathrooms has been a leading kitchen and bath design specialist in the GTA area. We are located in Toronto at 3316 Dundas Street West.
Call us at 416-762-3500 for a FREE in home consultation about your custom kitchen cabinets needs.